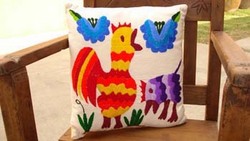 Ulalas.com is the first store to bring together handcrafted products from different Hispanic cultures—all under one umbrella
Pine Island, NY (PRWEB) May 7, 2010
There once was a time when collecting handcrafted home accessories of Hispanic origin required extensive traveling and a fat wallet. But thanks to Ulalas.com, the Web's first online style store devoted to all things Latino, today's shoppers are only a click away from one-of-a-kind items like Guatemalan embroidered pillows and Honduran hand-coiled baskets.
"Ulalas.com is the first store to bring together handcrafted products from different Hispanic cultures—all under one umbrella," says Sofia Gottfried, Ulalas.com owner. "But it's more than a store—it's also a celebration of the love and appreciation I have for my culture."
Gottfried, whose family is originally from Colombia, has long admired the rich colors and intricate handwork of artisans from her home country. When she realized that there was no store focused exclusively to Latino-made products, she put her extensive experience in product development to work by creating Ulalas.com. "There is a real sense of pride in the items made by the artisans, and it is so rewarding to be able to share these items with my customers," she says.
Rather than focusing on trendy, mass-produced items, Ulalas.com features handcrafted sustainable tableware, linens, ceramics, art, and accessories that reflect Hispanic heritage—all at an affordable price. Gottfried also takes care to offer items that blend beautifully into a variety of home décor styles. "I like pieces that tell a story, that are so interesting that they become part of my customer's story," says Gottfried.
These include the La Chamba pottery collection, dishes formed from black clay dug near Colombia's Magdalena River that move easily from oven to microwave to tabletop.
"La Chamba pottery is a great example of Latino ingenuity," says Gottfried. "They are so versatile, yet they are made just as they were thousands of years ago, from black clay—the oldest clay in the world."
The eye-catching papier mache servingware, hand-painted in festive motifs, and Guatemalan hand-embroidered pillows, each a collaborative work by women weavers of Panajachel, San Antonio Palopo, and Guatemala City, are also perennial favorites. In all, Gottfried features an array of pieces from nine Latin countries, with plans to eventually include items from all 33 Hispanic countries.
Gottfried says there is no rhyme or reason to how she chooses items other than the common thread of the Latino culture. "I've always treasured my roots and had a sense of pride in things made in those parts of the world," she says. "I like it when something has oomph!— details that make it special, and I like it when no two pieces are the same. But in the end, I simply choose handcrafts that speak to me."
About Ulalas.com
Named for the ulalas cactus that grows wild in South America, Ulalas.com is an online style store devoted to home décor, tableware, and accessories made by artisans in Spain, the Caribbean, and Central and South America. Owner Sofia Gottfried, whose family is originally from Colombia, chooses each item based on its reflection of the rich Hispanic culture. For more information, visit http://www.ulalas.com or to schedule an interview with Sofia Gottfried, call 845.258.1250.
###