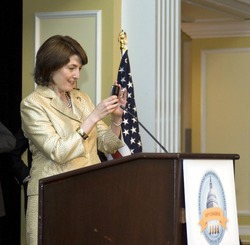 Since 1958, National Write Your Congressman has been encouraging responsible Americans to communicate with their elected officials
Richardson, TX (PRWEB) May 7, 2010
Randy Ford, COO and David Berry, Director of Congressional Communications for National Write Your Congressman attended the 111th Congress Gold Mouse Awards presentation on April 21st in Washington D.C. to celebrate online innovation on Capitol Hill. National Write Your Congressman was one of the sponsors.
The awards program is a project of the Congressional Management Foundation. Randy Ford has been active in the Foundation for over two years, working to develop a model for constituent communication. The project endeavors to show voters the most effective ways of getting their voice (opinions) heard by their representatives in the House and Senate.
With an estimated 70% of American adults online, Members of Congress are increasing their efforts to effectively communicate with and better serve their constituents via the Internet. Since 1998 the Congressional Management Foundation has assessed the quality of congressional websites to identify the best and most innovative practices that can be more widely adopted by House and Senate Offices. On an annual basis the CMF presents Platinum, Gold, Silver and Bronze Mouse Awards to serve as an example for other offices to follow.
For the first time, the CMF gave Platinum Mouse Awards to the #1 website in each category: House Members, Senate Members, committees and leadership offices.Representative Cathy McMorris Rodgers (R-WA), Vice Chair of the House Republican Conference; Senator Lisa Murkowski (R-AK); and Representative Steve Israel (D-NY) three of the Platinum Mouse Award winners, took the stage to accept their awards and talk about the importance of using the web to communicate with constituents.
"Since 1958, National Write Your Congressman has been encouraging responsible Americans to communicate with their elected officials," said Randy Ford. "During our first four decades that involved sending a letter or making a phone call. That has all changed with modern technology and the instant convenience of the Internet. Times have changed. We have changed. We are proud to support and be a part of encouraging both Congress and their constituents to communicate via the World Wide Web."
About NWYC: National Write Your Congressman is neither a lobby nor a special interest group. They are non-partisan. For over 51 years they've had one mission and that is to encourage Responsible Americans to quickly and effectively influence their elected officials. For more information, go to http://www.nwyc.com
###