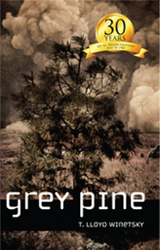 One hell of a tale, skillfully told…a brilliant debut novel.
Yakima, WA (Vocus) May 6, 2010
To commemorate the 30th anniversary of the eruption of Mount St. Helens, author T. Lloyd Winetsky releases a second edition of his gripping novel, Grey Pine, set during and after the iconic 1980 apocalyptic ash fall. Winetsky is also embarking on a northwest speaking and signing tour, culminating with an event in Cowlitz County, near Mount St. Helens, on the actual day of the 30th anniversary on May 18th, 2010
Winetsky braids together haunting images and realities of the abrupt ashen desert with the human oddities and sacrifices that only a disaster of this caliber could elucidate. Tragic and incisive, Grey Pine is the rarely told story of the days and weeks following one of America's and the Pacific Northwest's greatest natural catastrophes; the subsequent ash fall of the 1980 Mount St. Helens eruption. Paralleled with the eruption is the story's protagonist, school teacher Phillip Stark, and his struggles with small town racism against his biracial relationship, his father's compulsive and antagonistic personality, his own failing health, and his own dark idiosyncrasies.
"One hell of a tale, skillfully told…a brilliant debut novel." - Carl Kleinschmitt, writer for M*A*S*H, Dick Van Dyke, The Odd Couple
"A compelling fictional study of a troubled mind . . . the compulsion to turn the page stays with the reader from start to finish." - Judge of Writer's Digest 16th Annual, Self-Published Book Awards
T. Lloyd Winetsky's Grey Pine was originally released in 2007 and it now celebrates its second edition and commemorates the anniversary of Mount St. Helens' eruption with author signings and events scheduled for the Washington/Oregon area. For times and more detailed information on these locations, visit the author's website GreyPine.com or his BookTour site
Scheduled events are:

May 1: Borders in Seattle, Southcenter
May 2: Borders in Puyallup, WA
May 7: Barnes & Noble in Spokane, Northtown Mall
May 8: Borders in Tacoma
May 9: Borders in Federal Way, WA
May 14: Adventures Underground in Richland, WA
May 15: Borders in Yakima, WA
May 16: Inklings Bookshop in Yakima, WA
May 18: Borders Express in Kelso, WA
T. Lloyd Winetsky is the author of three collections of verse and poetry. Grey Pine is his second novel. He lives near Moxee, Washington.
###