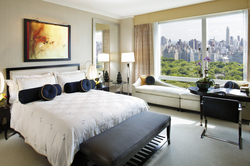 Mom's Month of May
New York, NY (PRWEB) May 6, 2010
Why give Mom a single Mother's Day when she deserves at least a month? Mandarin Oriental, Manhattan's celebration destination, has declared "Mom's Month of May" with special offers throughout the month to celebrate, spoil and pamper Mom like she deserves. Spend quality time together shopping like a celebrity with the NYC Stylist package, catch up with Mom over coffee, tea and snacks during a relaxingly decadent Mandarin Oriental Signature Pedicure, or celebrate Mother's Day weekend in restaurant Asiate with its elegantly delicious weekend brunch.
NYC Stylist Package
For an over-the-top Mother's Day gift Mom will never forget, book Mandarin Oriental's NYC Stylist Package with Stacey Mayesh, one of Manhattan's top celebrity and socialite stylists. As part of the package, Stacey Mayesh will have Mom complete a detailed questionnaire prior to arrival to get a clear picture of the goals for the full day of shopping, styling and scouting to come. Mom will then check into one of Mandarin Oriental, New York's chic rooms or suites with floor-to-ceiling views of the city skyline. The next day, a private car whisks away Mom and her personal stylist for a day of shopping at Manhattan's hidden boutiques, couture hot spots, department stores and/or private showrooms. Stacey Mayesh has over 15 years experience as a stylist and wardrobe consultant for top models and celebrities including Cameron Diaz, Susan Sarandon and Jessica Alba. She was also recently featured in Vogue magazine as a "one to watch" stylist. Mandarin Oriental, New York's NYC Stylist package is available from May 1 – September 30, 2010. Package rates start at $5,515 and include:

Two nights' accommodation in a Deluxe room or higher
Questionnaire consultation prior to arrival
A day of shopping with professional Stylist Stacey Mayesh (up to, but not exceeding, eight hours)
Mercedes car service during the shopping session
Hotel tax, service charges and the cost of shopping purchases are not included the package price. Additional nights of accommodation may be booked at prevailing rates. Bookings must be made no less than a week prior to arrival date. This package is subject to availability. For reservations please call +1 (212) 805 8800 or toll-free +1 (866) 801 8880.
Mom's Month of May Pedicure Package in The Spa
Spend quality time bonding with Mom over a pedicure at the award-winning Five-Star Spa at Mandarin Oriental, New York. Mom's Month of May Pedicure Package includes a signature Mandarin Oriental Pedicure for two, complimentary coffee, tea and water, and delicious snacks to enjoy while top therapists get Mother's and Daughter's toes sandal-ready for spring. The Mom's Month of May Pedicure Package is priced at USD 210 for two people. Price excludes taxes and gratuity. This package is subject to availability. Appointments can be made by calling +1 (212) 805 8990.
Restaurant Asiate's Mother's Day Weekend Brunch
Give Mom a spectacular afternoon celebration in restaurant Asiate with Queen of Comfort Food, Chef Amy Thompson's weekend brunch. Amidst striking views of Central Park in bloom, Mom will savor a delectable three-course brunch beginning with a gourmandize tasting, a choice of two entree dishes and a decadent dessert duo. Brunch is available Saturday, May 8 from 11:30am – 2pm for USD 55 per person. On Mother's Day, Sunday, May 9, a more extensive brunch menu will be served 11:30am - 2pm for USD 68 per person. For reservations please call + 1 212 805 8800 or book on http://www.opentable.com.
About Mandarin Oriental, New York
A stunning fusion of modern design with stylish Oriental flair, Mandarin Oriental, New York features 248 elegant guestrooms and suites — all with breathtaking views of Manhattan and Five-Star hospitality. Luxurious amenities include Asiate, the hotel's elegant restaurant; MObar created by noted interior designer, Tony Chi; the Lobby Lounge with dramatic views of Central Park; a 14,500-square-foot, Five-Star Mandarin Oriental Spa; and a state-of-the-art fitness center with a 75-foot lap pool. In addition, there is premium meeting and event space, including a 6,000-square-foot pillar-less ballroom with three walls of windows overlooking Central Park. Located in Columbus Circle's Time Warner Center, Mandarin Oriental, New York is in an idyllic location just steps away from world-class dining, shopping and entertainment, including the Broadway Theater District, Lincoln Center, Central Park, Jazz at Lincoln Center and the Time Warner Center's collection of upscale retail shops and restaurants.
NYC Stylist Stacey Meyesh
Stacey Mayesh is a New York based fashion stylist who has contributed to top tier magazines including In Style, Lucky, Self, Glamour, Real Simple and international editions of Elle. In addition to her experience as a Senior Fashion Editor at Marie Claire, Stacey was the editor for fashion content for In Style's best selling book, "Secrets of Style: The Complete Guide to Dressing Your Best Every Day," and she has appeared as a fashion expert on the television show, Full Frontal Fashion. Stacey has dressed some of the brightest stars in the entertainment industry including Susan Sarandon, Selma Blair, Cameron Diaz, Carolyn Murphy, Claire Danes, Matthew Perry, Amanda Peet, Jessica Alba, Angie Harmon, Christina Ricci, Queen Latifah, Cynthia Nixon and the late Natasha Richardson. While Stacey's clients include members of the fashion, finance, Hollywood, art and music elite, her services are designed to elevate the style of any woman. She offers a range of consultation services including Closet Editing, Personal Shopping, Styling, Travel Wardrobes and Creative Gift Buying. For more information, contact Stacey 917 859 8240 or go to http://www.staceymayesh.com.
Mandarin Oriental Hotel Group is the award-winning owner and operator of some of the world's most prestigious hotels, resorts and residences. Mandarin Oriental now operates, or has under development, 42 hotels representing over 10,000 rooms in 26 countries, with 17 hotels in Asia, 14 in The Americas and 11 in Europe and North Africa. In addition, the Group operates, or has under development, 14 Residences at Mandarin Oriental, connected to the Group's properties.
Photography of Mandarin Oriental is available to download, in high and low resolution, in the Photo Library of our Media section, at http://www.mandarinoriental.com.
###