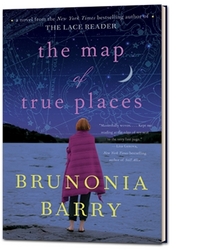 Masterfully woven with a cast of unforgettable characters set loose in a world so specific and real. -Lisa Genova
New York, NY (PRWEB) May 5, 2010
Brunonia Barry, the author of the beloved New York Times and international bestseller, The Lace Reader, delivers her second novel, The Map of True Places, a complex and emotionally compelling novel about finding your true place in the world when you have no map.
After Boston psychotherapist, Zee Finch's impending marriage falls apart and she loses a bi-polar patient to suicide, she returns to the town of her troubled youth––Salem––to care for her father, a Hawthorne scholar suffering from the end stages of Parkinson's disease who is now alienated from his partner, Melville. While in Salem, Zee encounters danger as she falls into the puzzle of unraveling the mystery surrounding her own mother's suicide when Zee was a child and realizes shocking parallels between the death of her mother and that of her patient, Lilly Braedon. She also becomes involved romantically with a sailor who teaches her the art of celestial navigation, used by sailors for centuries to find their way home by using the stars as a guide. And this new love, Hawk, has a mysterious past of his own, which may or may not be related to Lilly Braedon's death.
Guilt has plagued Zee since the day her mother, a children's book author and writer of fairy tales suffering from bi-polar disorder, took her own life and wonders what role she may have played in her death. Could she have saved her mother––and is she now living proof that a daughter will always pursue the unfinished dreams of her mother––especially if those dreams were never expressed? Zee knows the answers are tied to her former patient, Lilly. But why did Lilly kill herself? As she immerses herself in the troubled woman's life, Zee finds herself in peril as she begins to uncover the hidden secrets about Lilly and herself––secrets that force her to confront the truth of her mother's death and the unfinished fairy tale she left behind.
Salem, Massachusetts––a place strangely caught between its rich historical past of witch trials, pirates, sailors, and Nathanial Hawthorne and the modern-day kitsch of staged haunted houses, historical street reenactments, fortune tellers, and Wiccan curio shops––is as much a character in Barry's novel as the people who inhabit this world. (THE MAP OF TRUE PLACES was written in the gardens of The House of the Seven Gables). And no one knows Salem better than Barry (a native), who can weave this disparate past and present into a resonant, evocative, suspenseful, and satisfying tale about finding your true place in the world.
About the Author
Brunonia Barry's debut novel, The Lace Reader, has been published in 30 languages and was an instant top-ten New York Times bestseller in hardcover for over a month. And for that novel, Barry was the first American writer to receive the International Women's Fiction Festival's Baccante Award. Born and raised in Massachusetts, she lives in Salem with her husband and their beloved golden retriever, Byzantium.
###