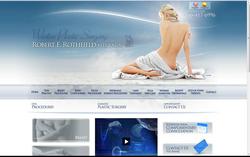 Exquisite, natural-looking results don't just happen by chance. Plastic surgery is an art form… 'with' medical science as (the) foundation.
Pembroke Pines, FL (Vocus) May 8, 2010
The American Society for Aesthetic Plastic Surgery (ASAPS) recently released the results of a study indicating a 147 percent increase in cosmetic procedures from 1997 to 2009. The most popular non-surgical procedure was BOTOX® Cosmetic and Dysport® injections, and the most commonly performed surgical procedure was breast augmentation. Many people are interested in plastic surgery procedures such as these, as well as facelift surgery, liposuction, and tummy tuck (abdominoplasty) in Ft. Lauderdale and South Florida. Dr. Robert E. Rothfield of Weston Plastic Surgery says, for these men and women, choosing a qualified plastic surgeon is perhaps the most important factor in determining the quality of their results. Currently many doctors and other medical professionals are offering treatments such as liposuction even though they may have little to no formal training in plastic surgery. Even some dentists have begun to offer non-surgical treatments such as BOTOX® Cosmetic.
Dr. Rothfield argues that specialized training and a dedicated focus to the field of plastic surgery are required in order to achieve the best outcomes, in both surgical and non-surgical procedures. "Exquisite, natural-looking results don't just happen by chance. Plastic surgery is an art form… 'with' medical science as (the) foundation."
Although it is lawful for a medical doctor of any kind to perform any type of cosmetic procedure, Dr. Rothfield says patients need to be aware that doctors who perform liposuction and other plastic surgery procedures may not have been certified to do so. In order to be certified by the American Board of Plastic Surgery (ABPS), a plastic surgeon's medical education and residency training are evaluated and he or she must complete a rigorous examination process. The ABPS is the only plastic surgery board governed by the American Board of Medical Specialties, the largest and most prestigious physician certification board in the country. ABPS certification is not a guarantee of a surgeon's experience or skill in performing Ft. Lauderdale breast augmentation, facelift surgery, liposuction, laser skin care, and other cosmetic treatments, but it guarantees that that surgeon has, at the very least, had the appropriate training and education.
In addition to choosing a plastic surgeon who is board-certified by the ABPS, Dr. Rothfield also has the following advice for men and women who are considering plastic surgery: "When you select your plastic surgeon, you should expect to see (him or her) for every aspect of your care, from your consultation to your surgery to your post-operative visits." A qualified plastic surgeon should "make sure that prior to your surgery you… have every question answered and have a full understanding of your treatment so that you are completely comfortable."
About Dr. Robert E. Rothfield
One of the premiere ABPS board certified plastic surgeons in Ft. Lauderdale, Dr. Robert E. Rothfield offers high-quality treatments for the face, breasts, body, and skin. He opened Weston Plastic Surgery in 1994 and his been providing patients with safe, natural-looking results for more than fifteen years.
Dr. Rothfield graduated from the University of Miami School of Medicine in 1986, and then completed 8 years of advanced training in plastic surgery at some of the most respected medical centers in the country. Dr. Rothfield is the Chief of Plastic Surgery at Memorial West Hospital in Pembroke Pines, near his Ft. Lauderdale liposuction practice.
Weston Plastic Surgery can be reached by calling toll free at 866-417-6996. The practice's address is 2300 N. Commerce Parkway, Suite 202, Weston, Florida 33326.
###