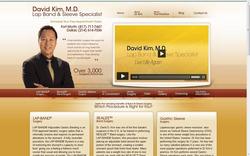 Dallas, Texas (Vocus) May 6, 2010
As a successful Dallas bariatric surgeon, Dr. David Kim has seen firsthand the positive impact that healthy lifestyle changes can have on patients' lives. Procedures such as gastric bypass surgery and LAP-BAND® Adjustable Gastric Banding can dramatically transform a patient's appearance, but a commitment to healthy eating and exercise is needed after surgery to remain healthy and trim. Dr. Kim has developed a comprehensive program at his practice, The Live Life Again Center for Bariatric Surgery, to provide patients with support and encouragement to help them achieve and maintain their ideal body weight.
To help promote healthy lifestyles, Dr. Kim sends out a monthly e-mail blast with tips and suggestions for eating right and exercising properly. Recent e-mails have included recipes for such healthy, tasty meals as Pork and Pinto Bean Nachos. This healthier version of a traditional favorite cuts the total number of calories in half and reduces the amount of fat in the dish by more than 60%. In addition to recipes, other nutritional information is provided to educate men and women on smart food choices and healthy eating habits.
Advice is also given to make daily exercise more fun and rewarding. Dr. Kim uses the e-mail blasts to remind patients of the importance of exercise and to encourage them to participate in activities such as walking, bicycling, swimming, and playing with children or grandchildren.
Patients at Dr. Kim's Dallas bariatric surgery practice can participate in support groups with other men and women who have undergone weight loss procedures. Led by the knowledgeable, compassionate staff members at the Live Life Again Center for Bariatric Surgery, the support groups enable patients to hear expert advice on maintaining their results while bonding with others who are going through similar experiences. Even patients who have had their weight loss surgery performed at other practices are welcome to join the support groups at Dr. Kim's practice or sign up for his e-mail blasts.
In addition to his monthly e-mails and post-surgery support groups, Dr. Kim has a wealth of resources on his website that are intended to educate patients on the importance of staying healthy.
About Dr. Kim
Dr. David Kim performs gastric bypass surgery and LAP-BAND Surgery in Dallas at the Live Life Again Center for bariatric surgery. Dr. Kim's practice has been designated as a Bariatric Surgery Center of Excellence, the highest honor that is awarded to weight loss surgery practices. Only one out of every 303 practices in the country receive this prestigious distinction.
The American Society of Bariatric Surgery has honored Dr. David Kim as a Bariatric Surgeon of Excellence every year from 2006 to 2009, and he has been named a "Top Doc" for general and bariatric surgery by Fort Worth Magazine. Dr. Kim says he has dedicated his career to the field of bariatric surgery and is passionate about performing weight loss surgery to help patients live healthier, longer, and more fulfilling lives.
The Live Life Again Center for Bariatric Surgery is located at 35 Veranda Lane, Suite 100, Colleyville, Texas 76034. The practice can be reached by phone in Fort Worth at (817) 717-7447 or in Dallas at (214) 614-7036.
###