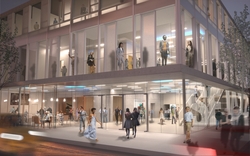 This building will be a beacon for the future of jazz.
San Francisco, CA (PRWEB) May 6, 2010
The SFJAZZ Board of Trustees today announced plans to build the first permanent home for the 28-year-old San Francisco institution, one of the world's most comprehensive and innovative jazz organizations. The SFJAZZ Center, to be located at 205 Franklin Street in San Francisco's Hayes Valley neighborhood, will be a 35,000 square-foot transparent free-standing structure designed by award-winning San Francisco architect Mark Cavagnero, of Mark Cavagnero Associates. The new facility will provide a dynamic and contemporary complement to the cultural assets in Hayes Valley. Led by an anonymous gift of $20 million, the largest ever given to a jazz institution, the ongoing capital campaign will raise $60 million toward construction of the new SFJAZZ Center and toward the expansion of the SFJAZZ endowment.
"The SFJAZZ Center represents a major transformation for SFJAZZ," said Srinija Srinivasan, Chair of the Board of Trustees. "It's more than a new home for the organization; it represents a place where the world of jazz music and education can be expressed and enjoyed in all its diversity, by all its global characters. This American art form has gone around the world and come back again. The SFJAZZ Center is our way of giving it the home it deserves."
CONCERTS & EDUCATION AT SFJAZZ CENTER'S CORE
The SFJAZZ Center will allow SFJAZZ to efficiently integrate its mission under one roof – presenting world class artists in concert throughout the year, nurturing young musicians' development and promoting music education through jazz outreach programs to Bay Area students and adults. The facility will also enable SFJAZZ to further its goal to be a global leader in jazz music preservation and innovation. The SFJAZZ Center will create a vibrant hub for jazz in San Francisco – a place where the public, musicians and students can come to listen, network and learn.
"This building will be a beacon for the future of jazz," said Randall Kline, SFJAZZ Founder and Executive Artistic Director. "Most importantly, it will offer musicians like the many greats who we've presented – including nearly every major performer in jazz and numerous emerging artists – a building that embodies the beauty of this indigenous art form."
The SFJAZZ Center will provide a landmark institution for jazz to anchor and showcase the vibrant American art form. With the new SFJAZZ Center, jazz will take its place alongside renowned arts institutions such as the San Francisco Symphony, San Francisco Opera and San Francisco Ballet in San Francisco's Civic Center performing arts district.
"SFJAZZ's new home is not only an important development for a vital organization in our city; it's also a welcome addition to the rich cultural fabric of San Francisco," said San Francisco Mayor Gavin Newsom. "The SFJAZZ Center acknowledges the significant role jazz has played in our city's history and will continue to play in our future."
The SFJAZZ Board of Trustees seeks to create an innovative landmark building designed to achieve LEED (Leadership in Energy and Environmental Design) Gold certification. Cavagnero's design features a state-of-the-art auditorium with flexible seating for 350 to 700 music lovers; advanced technology for performance recording and digital-age broadcasts to global audiences; an 80-seat multi-purpose Ensemble Room (a "black box" performance and education space); three rehearsal spaces; a digital learning lab; and a sidewalk-level restaurant/café. SFJAZZ plans to break ground on the new facility in the summer of 2011.
"The SFJAZZ Center will be distinct from more formal concert halls," said architect Mark Cavagnero. "Its design elements will capture the creative, non-hierarchical and improvisational spirit of the music form. The building's concrete frame and translucent skin express the energy and functions within, including the flexible, large main theatre, an intimate 80-seat ensemble room, and a café that features live jazz. The glass-enclosed ground floor will engage passersby along the well-travelled neighboring streets and welcome visitors."
PROGRAM VISION
The SFJAZZ Center will create a home for jazz presentation and education in the San Francisco Bay Area. The new SFJAZZ Center will feature a dedicated space for educational lectures, panel discussions, clinics, professional development workshops; a digital music lab for rehearsals, recording and production; and practice rooms for musicians and the SFJAZZ High School All-Stars. As part of the campaign, SFJAZZ plans to expand its educational programming and outreach to students and adults.
Additionally, the creation of the Center establishes a new home for the SFJAZZ Collective. The SFJAZZ Collective began in 2004 with a mission to bring together the world's finest jazz musicians to examine and explore the work of a great jazz master and to allow each member to compose an original work. The Collective tours the world, bringing a new body of the jazz canon to people everywhere.
"As a long time supporter of the arts, I am delighted to welcome this new facility to San Francisco," said Congresswoman Nancy Pelosi. "Our city is an international center for arts and culture and this center brings our renowned arts institutions to a new level. SFJAZZ's new building and education programs will bridge professional artists with our next generation of young performers. I join all San Franciscans in celebrating this occasion."
CAPITAL CAMPAIGN
The SFJAZZ Center is inspired by an anonymous lead gift of $20 million, the largest gift ever given to a jazz organization. With a goal of $60 million – including a $10 million endowment – the ongoing capital campaign has great momentum. With a broad donor base that includes the SFJAZZ Board of Trustees and jazz fans from all walks of life, the campaign is at its halfway point. "We have a diverse and very motivated donor base that truly reflects who we are as an organization," said Board Chair Srinija Srinivasan. "Our donors represent the eclectic spirit of the Bay Area and beyond. We invite everyone in the Bay Area to join the effort."
SFJAZZ BACKGROUND
In 1983, musician and entrepreneur Randall Kline founded SFJAZZ, which has grown from a modest grassroots organization into an internationally acclaimed institution with a $6 million annual budget." In its early inception, SFJAZZ presented an annual festival and featured premier artists in a seasonal program, the San Francisco Jazz Festival. For the past ten years, SFJAZZ has been presenting year-round programming with as many as 100 concerts annually serving an audience of up to 100,000 throughout the Bay Area. The SFJAZZ 2010 Spring Season continues through June 12, 2010.
SFJAZZ Accomplishments Include:

SFJAZZ has presented more than half of the nearly 120 National Endowment for the Arts Jazz Masters
Musicians from all parts of the globe have performed on SFJAZZ stages
SFJAZZ performances have entertained well over 1 million people in its 28-year history
Every 2009 SFJAZZ High School All-Star senior now attends a collegiate music conservatory
SFJAZZ currently has more than 3,000 members
FOR PUBLIC INFO: Visit sfjazz.org or call SFJAZZ at (415) 398-5655.
MEDIA PLEASE NOTE:

Interviews opportunities available with:
o Randall Kline, Executive Artistic Director and Founder, SFJAZZ
o Mark Cavagnero, Principal, Mark Cavagnero Associates Architects
o Srinija Srinivasan, Chair, SFJAZZ Board of Trustees
o Felice Swapp, Executive Operating Director, SFJAZZ

High-resolution images available. To request high-res images or renderings, please contact Jessica Lee at 415-359-2312/jessica (at) landispr (dot) com or Catherine Topping at 415-359-2306/jessica (at) landispr (dot) com.
Video download available here: hvimeo.com/11507201
# # #