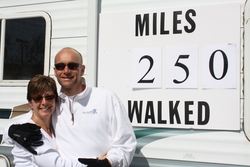 Englewood, CO (PRWEB) May 7, 2010
Lee Shayler is one quarter of the way through his quest to walk one mile every hour, every day until he reaches 1000 miles. The feat of walking every hour, 24 hours a day, would be tough on anyone, but combine it with the fact that Shayler has recently lost his eyesight, and it becomes an amazing undertaking.
Shayler has been walking since midnight on April 25th, every day, and through every night, in all the weather expected for spring in the Rockies: snow, wind, sleet, rain and some sun. 250 miles and cement sidewalks have caused shin splints, Achilles heel flare-ups, and knee problems. He was well-trained physically for the endeavor, but there is no training for short sleep cycles and pounding pavement - except rest. And that he can't have for another 750 miles.
Volunteers and sponsors have helped Shayler with equipment, physiotherapy, taping up shin splints, even a TENS (transcutaneous electrical nerve stimulation) treatment; but surprisingly, the best relief lately is a pair of Sketchers Shape-ups. These shoes, and their well cushioned heel, are putting the bounce back in his step, that is, in his next 750 miles of steps.
Shayler is taking on this challenge to raise awareness about retinitis pigmentosa, the eye disease that has been causing his eyesight to deteriorate over the last 20 years. (He is now legally blind.) When he was laid off from his job early this year, and he realized that his sight was almost totally gone, he created this challenge for himself. He is raising funds for Foundation Fighting Blindness and the BRPS (British Retinitis Pigmentosa Society).
His determination and grit, and supporting friends and family, will be what it takes to get through the rest of this grueling project. But there is no doubt in anyone's mind that he is going to get to that 1000th mile, a goal he's set to reach on June 5 at 4pm.
Shayler is in need of volunteers to help him finish his 1000-mile trek. To volunteer, donate or follow Shayler's progress, go to http://www.meyewalk.com.
# # #