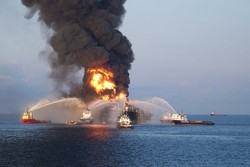 a jury will be inclined to punish the defendants, especially BP given its history of workplace safety violations
Houston, Texas (PRWEB) May 6, 2010
Lawyers representing workers injured during the Transocean rig explosion should pay particular attention to the consequences of how they file personal injury lawsuits against Transocean, BP and any other defendants, says Transocean Lawyer with Fitts Zehl LLP in Houston.
A lawyer choosing to file a Horizon lawsuit in federal court must also decide whether to proceed on the admiralty or civil law side of the Court's docket. These crucial decisions determine, among other things, if the case is decided by a judge or jury.
In two Horizon lawsuits filed, lawyers proceeded on the admiralty side; therefore, the presiding judge determines liability. If the judge finds any defendants liable, he then decides how much, if any, the plaintiff's family can recover as damages. However, if filed on the civil side, a jury decides liability and damages.
"Having represented injured workers in connection with three of the largest workplace explosions in the past 5 years (BP Texas City explosion in 2005 and International Paper and Imperial Sugar explosions in 2008), my experience is that if evidence shows the explosion could and should have been prevented, a jury will be inclined to punish the defendants, especially BP given its history of workplace safety violations, by awarding substantial damages to plaintiffs," said Ryan Zehl, Transocean lawyer at Fitts Zehl.
Among other important decisions lawyers must make is where to file lawsuits. Two pending Deep Horizon explosion cases were filed in Louisiana and one in Harris County state court. Because maritime law allows Transocean to file a limitation of liability defense in any federal district where a lawsuit is pending against it within 6 months of being sued, Transocean can proceed in the Eastern District of Louisiana or Southern District of Texas, which encompasses the Harris County state court case.
If and when Transocean files a limitation defense these injury cases, as well as any new Horizon lawsuits, are suspended until the federal court where Transocean filed the limitation defense determines (1) what caused the blow out and (2) whether any Transocean managing agents, officers or supervising employees knew or should have known about whatever caused it.
Assuming plaintiffs prove the second (knowledge) requirement, Transocean cannot cap its liability in existing and future injury claims to the value of Deep Horizon. Transocean's limitation of liability defense would be dismissed and all cases filed against it resumed in courts where originally filed.
Other legal and procedural issues also arise during a maritime personal injury lawsuit. Because many are unique to maritime law, selecting an attorney experienced with offshore injury lawsuits is crucial.
About Fitts Zehl:
Fitts Zehl LLP is a national maritime and personal injury law firm that recovered millions in damages on behalf of injured offshore and refinery workers in connection with workplace explosions. For a free consultation call 1-800-993-4887.
# # #