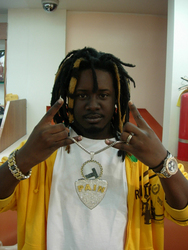 Success Sparkles With Beauty
New York, NY (PRWEB) May 13, 2010
Legendary Celebrity Diamond Jewelers Avianne & Co. - Release exclusive in store footage of Hip Hop Artists Sean Paul, Cam'Ron, DJ Who Kid, Dj Pro Style, and Jim Jones shopping for Hip Hop Diamond Jewelry. Commemorating the launch of our new website, http://www.AvianneAndCo.com, we are releasing never-before-seen footage of Celebrity athletes and entertainers shopping for Custom Diamond Jewelry at our store location.
Has anyone ever turned on a music video and seen a rapper wearing a huge iced out Diamond Chain?
Where do these Rappers and Athletes get their Championship Diamond Rings?
Ever wonder where all this Hip Hop Diamond Jewelry comes from? Well, it just so happens that most of these pieces come from the world's most infamous Celebrity Diamond Jewelers, Avianne & Co.
There was a time when "bling bling" was a term used for Rolex Diamond Bezels and simple Men's Diamond Rings composed of only a few small diamonds. This was back in the 1990's, and an ounce of gold was $290. Now with the global economic crisis in full effect and currencies in complete turmoil, gold has skyrocketed to approximately $1,200 and ounce. With this enormous leap in price, the Diamond Jewelry industry has been forced to enter a new age of extravagance.
Wether it's a Custom Diamond Chain, Custom Diamond Jersey Pendant, or even an over-the-top Diamond Jesus Pendant, Avianne & Co. has been the leading source of Custom Hip Hop Jewelry for over 10 years. Under strict supervision by Jewelers Israel and Joseph Aranbayev, the Custom Hip Hop Jewelry at Aviannes has become an industry standard for others to base their own merchandise on. Working one on one with Artists such as Jim Jones, Usher, T-Pain, Cam'Ron, and many more - Avianne & Co. takes extensive care and detail in crafting exclusive one-of-a-kind pieces. Readers may be asking, how much does a Custom Order cost? Well, it just so happens that the answer is up to the buyer. e-Commerce Director George Avetisov was quoted as saying "It doesn't matter if a customer has $500,000 or $500, if a person can dream it, we can build it." - emphasizing the importance of budget-based orders. As the years have passed, Custom Diamond Jewelry has taken a powerful hit in gross revenue as the global economic crisis led to a substantial decrease in the sales of luxury goods. High End Designer Jewelry being one of these markets, the family at Avianne & Co. have begun taking orders at any price range or budget level.
"In today's economy, we cannot stress enough the importance of accepting a client's order no matter the budget. We understand that cash flow has slowed, and so has the volume of large orders. However the economy may be, we do not discriminate against anyone just because of the size of their bank account."
-Joseph Aranbayev, Sales Manager
For more on Avianne & Co. and Exclusive Diamond Hip Hop Jewelry, log onto http://www.AvianneAndCo.com
###