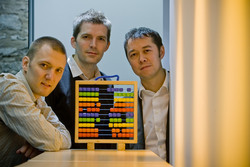 We want to give something back to our 'evangelists' and also to help spread the word further. We are very excited about how powerful this affiliate scheme is and the impact it could have on our subscriber numbers - Ed Molyneux, FreeAgent CEO
(PRWEB) May 7, 2010
FreeAgent Central has launched an official affiliate programme for non-members following the runaway success of its Evangelist scheme for subscribers. The eagerly anticipated affiliate programme already has a waiting list of 20 companies ready to sign up.
Affiliates and Evangelists earn a one-off reward of twice the monthly subscription fee for each new referral - up to £50 - or an ongoing 20% share of the subscription payments from the new member.
Before becoming an Evangelist, members earn 10% off the FreeAgent subscription price for every referral and once they've referred 10 friends, subscription is free for life and they become an Evangelist. The top four FreeAgent Evangelists have already referred a total of 156 new members.
Ed Molyneux, FreeAgent CEO explains: "From the very early days of FreeAgent we have been thrilled by how happy we make our customers! Our subscribers genuinely want to tell the world about us because we make such an immediate difference to their business.
"Now we want to give something back to those 'evangelists' and also to help spread the word further. We are very excited about how powerful this affiliate scheme is and the impact it could have on our subscriber numbers."
A growing number of proactive users are now using FreeAgent free of charge, and you can see John O'Nolan talking about it in his video testimonial here. It's a win-win situation: users get FreeAgent for nothing and FreeAgent gets more customers.
Users don't become Evangelists automatically so to sign up please get in touch and find out more. To find out more about the Affiliate programme, please email info(@)freeagentcentral.com
FreeAgent Central has made joining the affiliate programme as painless as possible and signing up can be done in a matter of minutes.
http://www.freeagentcentral.com
About FreeAgent Central
Edinburgh-based independent software company FreeAgent Central has pioneered online accounting since the launch of its 'FreeAgent' service in 2007, rapidly growing a loyal community of small businesses, and now having over 2,000 subscribers who pay monthly for access to its easy-to-use software. Subscriber numbers are currently growing by over 10% per month.
As well as making accounting easy for business owners to understand, FreeAgent offers unique real-time projections of tax liabilities including VAT, Self-Assessed Income Tax and Corporation Tax. Users can also analyse bank statements, see live profit and loss reports, send and track invoices, track time and expenses, and manage projects.
The company is run by founders Ed Molyneux, Olly Headey and Roan Lavery who – originally freelancers themselves - needed a finance tool that would give them a clear picture of their business accounts. That product did not exist and so FreeAgent was born.
In a recent survey, a remarkable 99.5% FreeAgent users said they would recommend the software to others, and the service won the prize for Best Newcomer at the 2009 SIFT Media Software Satisfaction Awards. FreeAgent Central is listed on the Telegraph High Growth Index for privately-held UK firms.
###