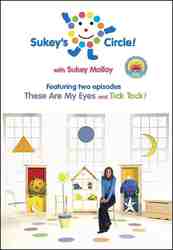 "Toddlers will enjoy performing these actions on their own, while babies and their caregivers can do them together... strikes the right balance of simplicity, bright graphics, and repetition to engage babies and toddlers." School Library Journal
New York, NY (PRWEB) May 7, 2010
PlayMove&Sing, Inc. is pleased to announce that the 2010 Mom's Choice Gold Award has named Sukey's Circle! DVD among the best in family-friendly media. Sukey's Circle! is an exciting new viewing experience for families with young children. The double episode DVD features music, movement play and song with Sukey Molloy and her Sunshine Family of Friends. Sukey's Circle! features the songs: These Are My Eyes and Tick Tock, introducing the characters Sunny and Tick Tock along with lyrical felt art animation, and Sukey Molloy's award winning music. (Available from http://www.filmbaby.com/films/4187 for $19.95.)
The Mom's Choice Award is an awards program that recognizes authors, inventors, companies, parents and others for their efforts in creating quality family-friendly media, products and services. Mom's Choice judges are bound by a strict code of ethics, which ensures expert and objective analysis free from any manufactory association. Entries are scored on production quality design, educational value, entertainment value originality, appeal and cost. The end result is the best products, that parents and educators can feel confident using!
In addition to the Mom's Choice Gold Award, Sukey's Circle! received the 2009 NAPPA Honors Award (National Parenting Publications Awards), whose jurors called the DVD "honest and original… enjoyable…good concepts…one of the best music videos I've seen in a long time…The kids sang along, got up, danced and clapped their hands."
The praise keeps rolling in such as Producer Rick Siggelkow (Shining Time Station, Noddy, Ace Lightning, Dinosapien) who commends, Sukey's Circle! "The pacing, the use of shapes and colors, and the age appropriate music and storytelling, all strike the perfect pitch for a pre-school audience… Sukey's warm and gentle presence creates a welcoming, friendly and fun environment."
Carole Demas of WPIX-TV's, "The Magic Garden" found that "in a media world where the pace of children's entertainment often borders on frantic, Sukey's Circle! offers a gentle, sweet experience. Sukey's approach is soothing and patient, assuring parents that she genuinely cares about the welfare and education of the very young." Award-winning recording artist, Jeffrey Friedberg, MA MT-BC, founder of The Bossy Frog Band, lauds the DVD as "Bright, colorful and fun! Young children are sure to love Sukey's Circle!" Kyle Miller, Director Child Development Center, Rockland Community College notes how the DVD "encourages children to move in ways they would not normally move. Sukey is engaging and enjoyable to watch." Aldona Pilmanis, Director Nyack Children's Library, praises the "very high quality program that will be watched and experienced by children over and over again."
PlayMove&Sing Inc., producer of Sukey's Circle!, shares the observation that very young children learn more about themselves, and the world around them, when they engage directly in movement play and discovery throughout the day. PlayMove&Sing Inc. is pleased to offer CDs, DVDs, audio picture books, and play activity materials for young children in an atmosphere of joyful play!
Sukey Molloy, founder of the PlayMove&Sing program for young children, is a developmental music and movement educator, performing artist, and award winning recording and video artist of children's music, movement, and song.
The Mom's Choice Awards® (MCA) is an awards program that recognizes authors, inventors, companies, parents and others for their efforts in creating quality family-friendly media, products and services.
Parents, educators, librarians and retailers rely on MCA evaluations when selecting quality materials for children and families. The Mom's Choice Awards® seal helps families and educators navigate the vast array of products and services and make informed decisions.
An esteemed panel of judges includes education, media and other experts as well as parents, children, librarians, performing artists, producers, medical and business professionals, authors, scientists and others. A sampling of our panel members includes: Dr. Twila C. Liggett, ten-time Emmy-winner, professor and founder of PBS's Reading Rainbow; Julie Aigner-Clark, Creator of Baby Einstein and The Safe Side Project; Jodee Blanco, New York Times best-selling author, Priscilla Dunstan, creator of the Dunstan Baby Language; Patricia Rossi, host of NBC's Manners Minute; Dr. Letitia S. Wright, D.C., host of the Wright PlaceTM TV Show; and Catherine Witcher, M.Ed., special needs expert and founder of Precision Education, Inc.
###