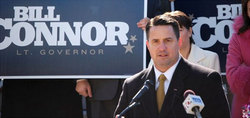 "The great state of South Carolina, just as with the rest of the nation, is in need of great leadership from citizens and not stale politicians who are self interested, Bill Connor is one of those leaders that are so badly needed right now - Scott Wheeler
West Columbia, SC (PRWEB) May 10, 2010
Bill Connor, the overwhelming front runner for the Republican nomination for Lt. Governor, has resumed his campaign after fulfilling a five day United States Army Reserve obligation. The campaign also continued to show momentum, announcing numerous additional endorsements.
The National Republican Trust PAC, a national organization dedicated to strong family values, limited government, the free enterprise system and a strong national defense announced that it had endorsed Bill Connor.
"The great state of South Carolina, just as with the rest of the nation, is in need of great leadership from citizens and not stale politicians who are self interested," said Scott Wheeler, Executive Director of The National Republican Trust PAC. "Bill Connor is one of those leaders that are so badly needed right now."
One of Bill's superiors in Afghanistan, Brigadier General Gregory Batts of Charleston joins "Bill's Brigade," the Connor Veterans coalition. Also joining Bill's Brigade is Brigadier General Lanneau Siegling of Charleston, who also serves as the Charleston County representative to the state GOP Executive Committee.
Rep. Mike Pitts of Laurens, Chairman of the House Sportsman's Caucus, joins the Connor Legislative Coalition.
Rev. Det Bowers of Columbia joins "Christian Leaders for Connor."
In addition, Cory Truax of the "3 Conservatives" blog announced his endorsement.
"Bill Connor is a dynamic leader with profound experiences. An Afghan war vet and attorney, a father and husband, he speaks the language of small government, low taxes, and economic growth."
Also joining the Connor Campaign this week is Mrs. Kittsy Westmoreland of Charleston, the widow of General William Westmoreland. Mrs. Westmoreland joins the Connor Business Advisory Council.
"This past week was a great reminder of why it is so important to stand up for what's right," Connor said. "It was great to get back with the guys in uniform who know what sacrifice and hard work truly are."
"National organizations like the National Republican Trust PAC understand that if the Republican Party is to regain power, it must regain it's bearings first as a free market party, dedicated to conservative principles," Connor continued. "I am grateful for the support of such a fine and well considered organization.
"I am also thrilled to have the support of Mrs. Westmoreland, although it isn't surprising at all. General Westmoreland and my grandfather General William Connor were West Point classmates who served together in World War II and Korea. My father served under General Westmoreland's command in Vietnam. After my father was grievously wounded in Vietnam, General Westmoreland checked on his condition and called my grandfather with updates.
"After General Westmoreland's retirement to Charleston, he and Kittsy and my grandparents were neighbors, and during many summers spent in Charleston growing up, I would find myself in their great company, often swimming in their backyard pool. General Westmoreland encouraged my pursuit of becoming an Army Infantry officer. It is very special to me that Mrs. Westmoreland would support my campaign all these years later."
Connor, on his return from service, was greeted with the news that he was the runaway winner in the largest poll conducted so far to add to all of the other polls showing him the clear favorite in the Lt Governor's race. The campaign has been focused on the issues in regards to the Office on Aging, which the Lt Governor oversees and presiding over the South Carolina Senate. Bill is firmly committed to ruling tax increases out of order as Senate President as part of his plan to protect the taxpayers of South Carolina and has a great plan for his first day in office regarding the Office on Aging.
Bill Connor has also committed to ending the state income tax on military, police and fire retirees as a step toward ending the state income tax as part of his support for the South Carolina FairTax.
Bill Connor has a multitude of endorsements from those statewide including more county GOP chairs and SC executive committeemen than any other statewide candidate, religious leaders, veterans and all four living Congressional Medal of Honor recipients from South Carolina. His endorsements include State Senator Billy O'Dell, State Senator Danny Verdin, State Representative Nathan Ballentine, State Representative Greg Delleney, State Representative Wendy Nanney, State Representative Mike Pitts, State Representative Tommy Stringer, State Representative Mac Toole, Krista Cogdill, former candidate for Lt. Governor, Dr. Henry Jordan, former President, South Carolina Policy Council, former candidate for Lt. Governor, Dean Fowler, Florence County Treasurer. The only candidate in South Carolina endorsed by the Myrtle Beach Tea Party, plus Stand Up SC, Iraq Vets for Congress PAC, Can Do Conservatives, Boiling Springs Tea Party, Union County Tea Party, Citadel Republican Club, America's Independent Party of SC – "Reagan List" and has the support, if not the endorsement of nearly all Tea Party and Patriot groups around the state.
"I am very pleased to be back on the campaign trail, and to be announcing these new supporters. It is clear that we are well positioned for the last 5 week sprint to the finish line. I am grateful for all of the support we have garnered over the past 15 months, and I am looking forward to winning the Republican nomination for Lt Governor of South Carolina on June 8," Connor concluded.
Bill Connor is a Lieutenant Colonel in the United States Army Reserves who received the Bronze Star for his service in combat as the senior American advisor in Helmand Province, Afghanistan. Bill is the first post-9/11 combat veteran to announce and file for South Carolina statewide office, and the only combat veteran running for Lt. Governor. Bill's opponents in the race for Lt Governor are Ken Ard, Larry Richter and Eleanor Kitzman. In addition to his Reserve duties, Bill serves as the Chairman of the Board of Orangeburg Christian Academy. Bill is a graduate of the Citadel and USC Law School.
###