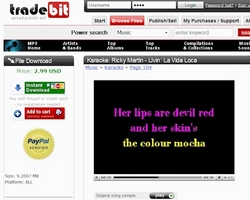 ...no login, no password to remember and ultimately no unwanted emails after purchase...
Frankfurt, Germany (PRWEB) May 10, 2010
Today Tradebit, Inc. announces the immediate availability of high-quality digitally downloadable Karaoke collections. The global distribution agreement with Sunfly Karaoke, based in London, England, allows Tradebit to sell Sunfly's high quality Karaoke collections online.
The new files consist of actual chart songs with synchronized lyrics information and can be played on any MP3 player, including the famous VLC player, which works on all major operating systems. Lyrics are displayed as colored animations along the song timeline.
Find the songs at Tradebit's big download marketplace -- http://www.tradebit.com. Tradebit offers commercial downloads without registration. Users select, buy and download files such as MP3s, eBooks or Software using PayPal or credit card and can receive access to their merchandise without signing in to the site. By introducing the major Karaoke creator and distributor Sunfly to their platform, Tradebit completes an unparalled, massive music section. Their catalogue now covers music from any era and four languages.
Founder and CEO of Tradebit, Ralf Schwoebel, states, "No one covers the commercial music scene like Tradebit. We offer over five million MP3 files, music videos, karaoke hits, sheet music, pictures of stars for desktop wallpapers, and so on. Because no one needs to sign-up with us to buy, we see a strong audience of casual buyers who enjoy this ease of purchase – no login, no password to remember and ultimately no unwanted emails after purchase."
All music and karaoke downloads from Tradebit are DRM free and play on free, widely available tools, which are linked to from the file description.
# # #