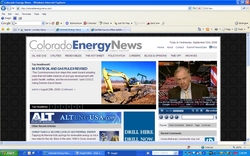 This is an essential guide for anyone working in Colorado's energy sector or seeking employment in the rapidly growing field
Denver (PRWEB) May 11, 2010
Colorado is emerging as an international player in the next great technological and industrial revolution -- Clean Energy. Now, you can track the businesses and organizations helping to propel this revolution by subscribing to the newly released 2010 COLORADO ENERGY DIRECTORY.
This comprehensive online resource tool is being published by Colorado Energy News, the foremost energy news website in the industry. The directory profiles hundreds of energy and cleantech companies helping to shape the clean energy revolution, including key personnel and contact information, business specialty, products and services, geographic area served and notable projects.
"This is an essential guide for anyone working in Colorado's energy sector or seeking employment in the rapidly growing field," says Executive Editor, David Hill. "It is the first in-depth profile of the businesses, organizations, and policy groups driving the energy revolution forward."
"In so many sectors from energy efficiency and green building solutions, natural gas production and biofuels, to solar installations and wind power, Colorado companies are setting the pace for clean energy solutions, not just statewide, but nationally and even internationally," adds Hill.
The comprehensive digital database features convenient drop-down menus of virtually every energy and clean tech category with new companies regularly added to the database.
A recent study released by the Center for American Progress suggests that the U.S. "has an urgent economic imperative to be a clean energy leader" and Colorado has the opportunity to be the national leader that propels the nation in this international clean energy race.
The new resource is available for $19.95 at ColoradoEnergyNews.com/Directory.
###