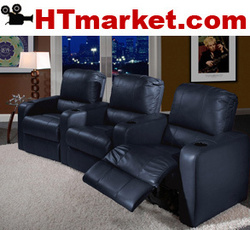 HTmarket.com specializes in bringing the complete theater experience into homes across the globe.
Chicago, IL (PRWEB) May 8, 2010
Home theater seating is the most important factor in a comfortable home theater, and nobody knows this more than HTmarket.com, the largest internet home theater store. For over nine years, they have led the industry in providing the best home theater seats, from the widest selection of items, for the best price. Now, with the addition of more styles from Berkline and Palliser, HTmarket.com is taking home theater seat shopping to a new level.
Htmarket.com's extensive catalog includes all the latest Berkline home theater seating, loungers and sectional sofas. This includes many new "quick ship" styles, such as the new Berkline 12000 style and 13174 style, which are ready to ship. HTmarket.com also recently added several exciting new styles of Berkline home theater seating and sectionals. Berkline theater seating is well known for quality construction, cover materials, and overall comfort. Most styles are available with additional features, such as Buttkickers and power recline options, and can be made into multiple configurations perfect for home theaters of any shape or size.
HTmarket also sells a huge selection of home theater furniture from the best manufacturers in the industry, including great new home theater seats, sofas and sectionals from companies like Palliser and Kiira. They also carry Jaymar's My Design label, which allows the customer to provide their own fabric for a truly custom home theater, as well as a selection of luxury home theater seating.
For anyone who requires theater seating for their home, HTmarket.com continues to lead as the largest dealer of home theater furniture and accessories online. Since going online in August of 2000, HTmarket.com has emerged as the premiere online home theater marketplace. Offering the finest home theater products and accessories available, HTmarket.com specializes in bringing the complete theater experience into homes across the globe. With a steadily growing catalog featuring over 6,000 products and unsurpassed customer service, HTmarket.com has been given a Top Rated Yahoo Store score of 4.5 stars by their own customers.
HTmarket.com is located at MarketWare Technologies, Inc., 5215 N. Ravenswood Ave., Suite 101, Chicago, IL 60640. For direct orders, call 1-888-764-9273, fax 773-728-8162.
###