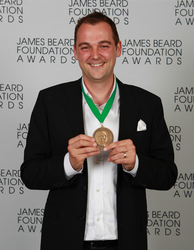 Monroe, CT (PRWEB) May 6, 2010
Today Victorinox Swiss Army (VSA) announced that Daniel Humm, Executive Chef at Eleven Madison Park in New York City and Victorinox Cutlery spokesman, was named "Best Chef: New York City" at the 2010 James Beard Foundation Awards. The James Beard Foundation Awards is the nation's most prestigious recognition program for the culinary industry. The awards ceremony took place on Monday, May 3.
"We're very proud of Daniel and our partnership with him, and are thrilled he has been recognized by the James Beard Foundation as New York City's Best Chef," said Victorinox Swiss Army, Inc. President, Rick Taggart. "Daniel is a supremely talented chef and we are honored that he chooses our brand and professional line of cutlery."
Victorinox Swiss Army officially began its partnership with Chef Daniel Humm in December 2008, however, Humm has been using Victorinox Cutlery since he was an apprentice chef at fourteen-years-old in Switzerland. He continues to use Victorinox Cutlery in his professional kitchen today. Humm is the Executive Chef at the four-star restaurant, Eleven Madison Park in New York City.
"I am honored to receive the James Beard award and so incredibly proud of my entire team at Eleven Madison Park," said Executive Chef, Daniel Humm. "At the restaurant, we strive to create an excellent experience for our guests, and in the kitchen, we could not do this without having access to the best ingredients, equipment and tools, including Victorinox Cutlery. I have been using Victorinox Cutlery since I was a young man, when my parents gave me a block set to properly equip me for my culinary apprenticeship. It is essential for me to work with tools that are reliable and offer complete functionality, which is why I feel so confident about representing the Victorinox brand."
Victorinox has been manufacturing fine cutlery in the tradition of precision and craftsmanship for over 125 years. Known for its proprietary razor-sharp edge, quality and performance, Victorinox offers Stamped, Forged and Ceramic Collections with a choice of Fibrox, Rosewood, Poly and POM handles. Perfectly balanced with high carbon stainless steel blades, Victorinox Cutlery is as comfortable in the hands of culinary professionals every day as it is in the kitchens of at home chefs.
For more information on the James Beard Foundation Awards, please visit http://www.jamesbeard.org. For more information on all of Victorinox Cutlery, please visit http://www.swissarmy.com/cutlery.
About Victorinox Swiss Army
Founded in 1884, Victorinox Swiss Army is Your Companion for Life on the Road. Victorinox Swiss Army, Inc., a wholly owned subsidiary of Victorinox, A.G., is the exclusive United States, Canadian and Caribbean marketer of VICTORINOX Swiss Army knives, forged and stamped cutlery, fragrances and LED lighting products; and VICTORINOX SWISS ARMY timepieces. It sells apparel throughout the world under the VICTORINOX trademark and has flagship retail stores in New York, London, Tokyo and Geneva. Under license from Victorinox A.G., the Company sublicenses the VICTORINOX trademark and the famous Victorinox Cross and Shield to selected manufacturers and distributors of fine products including VICTORINOX TRAVEL GEAR. The company Web site is located at http://www.swissarmy.com. Victorinox Swiss Army, Inc. is based in Monroe, CT. "VICTORINOX", the famous Victorinox Cross and Shield, and "SWISS ARMY" are trademarks owned by Victorinox AG and its affiliates and are registered in many countries.
About the James Beard Foundation
Founded in 1986, the James Beard Foundation is dedicated to celebrating, preserving, and nurturing America's culinary heritage and diversity in order to elevate the appreciation of our culinary excellence. A cookbook author and teacher with an encyclopedic knowledge about food, James Beard, who died in 1985, was a champion of American cuisine. He helped educate and mentor generations of professional chefs and food enthusiasts. Today, the Beard Foundation continues in the same spirit by administering a number of diverse programs that include educational initiatives, food industry awards, scholarships to culinary schools, and publications, and by maintaining the historic James Beard House in New York City's Greenwich Village as a "performance space" for visiting chefs. For more information, please visit http://www.jamesbeard.org. Find insights on food at the James Beard Foundation's blog Delights & Prejudices. Join the James Beard Foundation on Facebook. Follow the James Beard Foundation on Twitter.
###