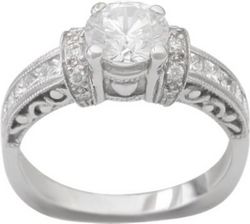 It has been our experience that quality and beautiful jewelry doesn't have to be expensive.
Gainesville, FL (PRWEB) May 10, 2010
Abazias Diamonds (OTCBB:ORHI) is now offering 1-Off rings and jewelry along with its expansive selection of wholesale priced diamonds, engagement rings, and wedding jewelry. The company launched its selection of featured 1-Off designs in November of 2009, just in time for last year's holiday season.
In most cases 1-Off rings are very limited editions with only just one or two of a particular design made. This gives Abazias an extra edge in offering not only high quality jewelry at affordable prices but in a limited quantity to ensure customers are getting exclusive pieces. This limited quantity means revolving inventory with new styles and new deals becoming part of the normal day-to-day operations of Abazias.
"We understand that in tough economic times everyone wants to get a little more for their money. That's exactly why we've added 1-Off rings and jewelry to the already vast Abazias selection," explains Oscar Rodriguez, founder and CEO. "It has been our experience that quality and beautiful jewelry doesn't have to be expensive."
The inclusion of the 1-Off line will allow Abazias to convey even more savings to its customers.
Starting at just $405 for a 14k white engagement ring with 1/6 ctw diamonds and ranging up to a $2,375 Tacori platinum engagement ring and wedding band set with 1 7/8 ctw, the 1-Off collection allows Abazias an even broader customer base. Abazias offers the 1-Off jewelry, most notably the Tacori line, at unbeatable prices for these very exclusive rings. Customers are able to pick up the brand at more than half the price of other retailers. The jewelry line starts at just $25.
About Abazias
Abazias, a fully owned subsidiary of OmniReliant Holdings, Inc., showcases over 150,000 diamonds, valued at over $1 billion on its website. Most of Abazias.com's diamonds are GIA, AGS or EGL certified. Abazias offers the 'Couples Diamond(R)' which is required to meet even higher standards for cut, clarity and dimensions. Abazias is also a full-service jeweler offering a large selection of settings for stones purchased and other jewelry. For more information about Abazias, visit the company's website at http://www.abazias.com.
This press release may contain statements (such as projections regarding future performance) that are forward-looking statements as defined in the Private Securities Litigation Reform Act of 1995. Actual results may differ materially from those projected as a result of certain risks and uncertainties, including but not limited to those detailed from time to time in the Company's filings with the Securities and Exchange Commission.
###