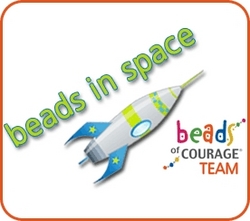 "The Beads in Space project will be a wonderful boost of encouragement for all the children and teens we support. The beads are going on an exciting adventure and will certainly take the spirit of our kids with them
Tucson, AZ (PRWEB) May 6, 2010
NASA has teamed up with Beads of Courage to bring hope and inspiration to children battling serious illnesses through the Beads in Space project. Handcrafted beads made by artists across North America will be on board NASA's STS-132 mission. The shuttle Atlantis is scheduled to launch on May 14, 2010.
Beads of Courage programs are currently helping children at over 60 hospitals worldwide. At the center of this art-in-medicine program are decorative glass beads similar to the beads that will accompany the Space Shuttle Atlantis. Children who participate in the program are given a length of string along with letter beads that spell out their name. As they undergo their healing process, they receive beads that represent different treatments and milestones. Their growing beaded necklaces stand as pieces of art that symbolize their medical histories and allow the kids to share and reflect on their experiences.
The Beads in Space project is the brainchild of Jamie Newton, an employee at the Marshall Flight Center in Huntsville, Ala. Newton's daughter, Sydney, has been battling cancer and is a participant in the Beads of Courage program. He pursued this idea in hopes to raise awareness of Beads of Courage and the work the organization does helping children undergoing medical treatment. Newton said that Beads of Courage has helped Sydney through her healing process and that she is very pleased to be a part of this project.
"We are thrilled to have the opportunity to work with NASA," said Jean Baruch, director of Beads of Courage. "The Beads in Space project will be a wonderful boost of encouragement for all the children and teens we support. The beads are going on an exciting adventure and will certainly take the spirit of our kids with them."
Beads of Courage hosted a contest for glass bead makers from around the world to enter their artwork for consideration in the Beads in Space project. Out of 54 beads entered, 17 were selected from nine different artists. The 17 beads weigh precisely eight ounces, the maximum allowed by NASA for the flight. Upon their return, the winning beads will be returned to Beads of Courage.
Beads of Courage is a non-profit organization, based in Tucson, Ariz., focused on arts-in-medicine program geared toward helping children cope with serious illnesses. Patients are given beads to represent significant treatment milestones during their journey. Beads of Courage programs have helped thousands of children and their families at over 60 hospitals. More information is available at http://www.beadsofcourage.org
For more images of the beads or to arrange an interview please contact Jean Baruch at (520) 331-1984 or jbaruch(at)beadsofcourage.org.
###