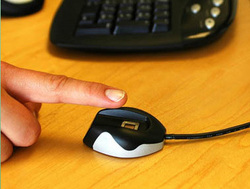 Zvetco Biometrics technology provides simple, safe, and secure logical access to organizations' networks and applications,
Orlando, FL (PRWEB) May 10, 2010
Zvetco Biometrics, a leader in fingerprint identity and authentication solutions, today announced that New York City Department of Health and Mental Hygiene have deployed the company's biometric fingerprint readers for automating the issuance of death certificates. New York City Department of Health and Mental Hygiene is one of the world's oldest and largest public health agencies and has in recent years undertaken a number of proactive and innovative initiatives, including a comprehensive tobacco control program, a requirement for chain restaurants to post calorie information on menu boards and the development of an electronic health record.
In keeping with that spirit of innovation they have embarked on a program to electronically create and post death certificates; a process that used to be handled manually. The procedure is now accomplished via the New York City Department of Health and Mental Hygiene Intranet web portal, which streamlines the process greatly. This reduces costs significantly while increasing ease-of-use and accountability. A key component of this revised process is the heightened security provided by the use of fingerprint readers from Zvetco Biometrics. These provide far greater security and reduce the risk and costs of shared or forgotten user names and passwords. It also helps to provide a more seamless Internet experience for authorized staff by making login to the Web portal easier and more secure.
Participants in the initial stage of the program, which include hundreds of mortuary homes as well as hospitals, extended care facilities and government agencies are provided software that tie directly into the readers from Zvetco Biometrics. These are utilized to enroll authorized individuals and later, authenticate them when issuing death certificates. This provides a protected, fully electronic means of recording, storing and printing each death certificate. Later retrieval of these documents if necessary, is easily accomplished via the irrefutable authentication that the Zvetco devices provide.
"Zvetco Biometrics technology provides simple, safe, and secure logical access to organizations' networks and applications," said Zavi Cohen, CEO at Zvetco Biometrics. "It's gratifying to see that when budgets are tight, Zvetco readers are chosen by government agencies to secure and streamline daily tasks. With Zvetco Biometrics' USB fingerprint readers they are able to increase their operational savings and more fully utilize their IT infrastructure." He adds, "This further validates our focus on the healthcare, government and financial communities".
About Zvetco Biometrics
Zvetco Biometrics is a manufacturer of best-in-class identity authentication hardware and provider of identity management solutions. Founded in 1999, Zvetco provides its customers in corporate enterprise, government, financial services, healthcare, gaming, food services and point-of-sale with cost-effective network security tools that prevent identity theft, increase accountability and eliminate the cost and inconvenience of password-based access. Zvetco Biometrics' Verifi™ line of biometric products incorporates precision fingerprint-sensing technology into ergonomic computer peripherals that deliver unparalleled performance, reliability and convenience. Available in multiple form factors, Verifi™ products use proven AuthenTec and UPEK sensor technology, offer a rugged, elegant design, a standard USB interface, enhanced security and convenience, private labeling and other custom options. Information about Zvetco and its products is available at http://www.zvetcobiometrics.com or by calling (407) 681-0111.
Verifi™ is a trademark of Zvetco Biometrics. All other trademarks, registered trademarks and service marks are the property of their respective owners.
Media Contact: Christy Elliott, Zvetco Media Director (321) 422-3988
# # #