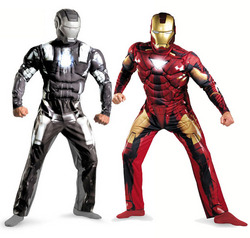 "We are pleased to offer these new Iron Man 2 costumes at a price to fit every budget, starting as low as $19.99," says Joseph Buzzelli, Licensed Costume Buyer for Costume SuperCenter.
Edison, NJ (PRWEB) May 10, 2010
Costume SuperCenter, one of the country's largest online costume retailers will carry Iron Man 2 costumes for Halloween 2010. The box office success of Iron Man 2 as well as the superior design of the costumes assures that Iron Man 2 costumes will be best sellers for Halloween 2010 and beyond.
In Iron Man 2 the world is now aware that Tony Stark is Iron Man. As Iron Man, Stark was able to negotiate a peace treaty between the super powers of the world. This results in the government demanding he hand over the secrets to Iron Man's technology but Stark refuses to cooperate. The plot is exciting and action-packed from start to finish.
The Iron Man 2 Costumes will range from classic quality with graphics screened printed on a jumpsuit to high quality light-up costumes with built-in muscles. "We are pleased to be able to offer Iron Man 2 costumes that fit every budget, starting as low as $19.99," says Joseph Buzzelli, Licensed Costume Buyer for Costume SuperCenter. He adds, "We are also excited about these costumes because they are brand new for 2010. Although Iron Man costumes have been available for several years, the Mark VI, War Machine and Ironette costumes are being offered for the first time."
The tell-tale difference between the Iron Man Mark VI costume and the previous Iron Man Halloween costumes is the new triangular chest arc that has replaced the round chest repulsor. In the movie, this change plays a vital role in the health and strength of Tony Stark and makes it a noticeable and important feature of the new costume.
The Iron Man 2 costumes are currently in production and will be ready to ship in plenty of time for Halloween. Iron Man 2 costumes will be available for pre-order later this month at http://www.costumesupercenter.com.
About CostumeSuperCenter.com
In 2005, Steve Mandell, founder of Party City decided to leverage his expertise in the Halloween costume business to create a costume website that makes purchasing costumes simple and convenient. Mandell recognized the need for increased selections, high quality and more fashion savvy designs in the marketplace and that costumes should be available year round at low discount prices. Thus, CostumeSuperCenter.com was born.
The online store features thousands of different costumes and accessories for people of all ages and pets too. CostumeSuperCenter.com also has one of the largest selections of hats, wigs, masks, accessories and make-up.
Contact:
Steve Mandell, CEO
Costume Supercenter
45 Fernwood Avenue
Edison, NJ 08837
(732)486-1000
http://www.costumesupercenter.com
# # #