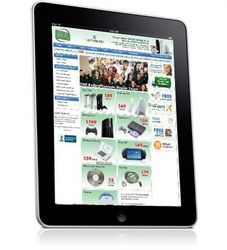 Hoopsick stated... "We currently repair over 500 units daily. This is a mix of Xbox 360, PS3, Wii, PSP and Nintendo DS units combined. I think Kindle and iPad consumers will be pleasantly surprised with their experience with PSR, Inc. "
Philipsburg, PA (PRWEB) May 12, 2010
Consumers looking to repair an Apple iPad or Amazon Kindle electronic book reader can now get their devices fixed at a fraction of the cost of purchasing new equipment, thanks to PSR, Inc. One of the leading repair facilities for video game consoles, PSR, Inc. is now offering iPad repair and Kindle repair services.
"We currently repair more than 500 units daily. This is a mix of Xbox 360, PS3, Wii, PSP and Nintendo DS units combined. I think Kindle and iPad consumers will be pleasantly surprised with their experience with PSR, Inc.," says Brian J. Hoopsick, president and founder of PSR Inc. "We are fully committed to professionalism and customer service, before, during and after we repair your equipment."
PSR, Inc. has been repairing hi-tech electronic products for more than 22 years. Under Hoopsick's leadership, the company has grown into a nationally recognized and respected powerhouse orchestrating service in the consumer electronics industry. PSR provides depot repair services for several third-party warranty providers, manufacturers, distributors and eCommerce businesses as well as the general public. The company also provides particular clients with asset recovery and liquidation services as needed.
Hoopsick takes an active role in the company's day to day operations. His knowledge and experience has made PSR a one-of-a-kind repair depot that consistently blends cutting-edge technology with superior service. His dedication to identifying opportunities and implementing business models has made PSR a leader in the service industry.
In the mid 1980s, Hoopsick authored several repair manuals in the http://www.pabusinesscentral.com/.../professional-satellite-repair-going-gangbusters-in-philipsburg/ [satellite industry] and hosted a satellite television and radio talk show helping do-it-yourself repairmen. His commitment has earned him prestigious honors from Oxford's Who's Who and the 2008 Entrepreneur of the year award. Most recently, Hoopsick was named one of the top 100 people in Pennsylvania.
For more information regarding PSR, Inc.'s new repair services for electronic book readers, including Apple iPad repair and Amazon Kindle repair, visit PSR1.com or call the company toll free at 877-777-3491 or 814-342-5635.
# # #