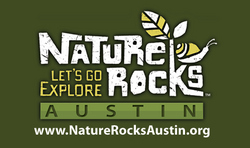 Children in Nature is a collaborative effort of many committed individuals and organizations in Central Texas, and we are proud to introduce NatureRocksAustin.org to the Austin area community
Austin, TX (PRWEB) May 8, 2010
In one week, on Saturday, May 15, NatureRocksAustin.org will officially launch its site by holding Austin's first Family Nature Crawl, an outdoor interactive experience featuring four different nature destinations, and over 30 exhibiting organizations and companies who support the goal of connecting kids with nature.
NatureRocksAustin.org is a locally developed interactive website and comprehensive resource for families to find local places to go and things to do to connect kids with the great outdoors. Through its network of local and regional partners, NatureRocksAustin.org showcases up-to-date information on hundreds of green spaces (from neighborhood parks to state parks), a vast array of nature-based programs and events to suit every family's needs and budget, as well as a comprehensive directory of public, non-profit and private organizations and businesses whose activities support the goal of connecting kids with our natural world.
This website is a key element of the Austin Children in Nature Collaborative's strategic plan to inspire social change resulting in a significant increase in the amount of time children spend interacting with nature on a daily basis. Scientific research increasingly shows that kids with frequent access to the natural world are healthier, happier and smarter. It shows that childeren who struggle with serious and increasingly more common issues ranging from ADD to obesity to depression benefit greatly from learning and playing outdoors.
The Austin Children in Nature Collaborative (CINC-Austin) is a private/public partnership dedicated to creating social change so kids throughout Central Texas have easy and frequent connections to our natural world. CINC-Austin partners include organizations like: Austin Parks and Rec, Camp Fire USA, Colorado River Foundation, Lady Bird Johnson Wildflower Center, LCRA, National Wildlife Federation, Texas Parks and Wildlife Dept, Travis Audubon Society, Westcave Preserve and many others.
"Children in Nature is a collaborative effort of many committed individuals and organizations in Central Texas, and we are proud to introduce NatureRocksAustin.org to the Austin area community," said Molly Stevens, executive director, Westcave Preserve. "We are fired up about making sure this important website resource gets launched with the big impact we believe Austin's first Family Nature Crawl will have."
NatureRocksAustin.org is officially launching Saturday, May 15, by organizing Austin's first ever Family "Nature Crawl." The Nature Crawl will guide families through four locations in town, letting them experience all NatureRocksAustin.org has to offer while introducing them to many local partners who share a common goal: connect kids with nature!
The schedule is as follows:

Stop 1 - 9 am, Austin Nature & Science Center, in Zilker Park
Stop 2 - 10 am, LCRA's Redbud Center on Lake Austin Blvd
Stop 3 - 11 am, Lady Bird Johnson Wildflower Center
Stop 4 - noon – 3 pm, REI downtown, 6th and Lamar
All four locations will feature free, fun nature-based experiences and activities for the whole family. Valuable information and promotions as well as a prize for each kid will make this event especially exciting for participants. REI is taking their stop to a whole new level by opening up the entire parking lot for an afternoon Family Nature Expo where over 20 companies and organizations will be exhibiting and interacting with participants.
"REI is a proud supporter of the Nature Crawl and NatureRocksAustin.org! Their focus on using nature to make kids happier, healthier and smarter mirrors ours," said Ky Harkey, Outreach Specialist, REI Austin. "When we heard about the Nature Crawl, we jumped right in to be a stop. We got so excited that we couldn't help but grow the opportunity into a full-fledged Family Nature Expo at REI on May 15, from noon to 3 pm."
Exhibitors at REI and the previous stops include CINC-Austin partners as well as: Adventure Cooks, Austin Rowing, Clif Bar, DadLabs, FamiGo Games, Medline Plus from Texas A&M, MemoryVaultMedia, Sylvan Learning, Tiff's Treats, ThunderCloud Subs, University of Phoenix, VolunteerSpot and others. More exhibitors are being added every day ensuring that participating families will benefit from great information, demonstrations, interactive activities, offers and giveaways. NatureRocksAustin.org, along with REI, will be awarding a grand prize to help a lucky family better experience nature in the future.
NatureRocksAustin.org, its CINC-Austin partners and Nature Crawl exhibitors invite all Austin families and interested community members to the May 15 event – rain or shine - to experience first-hand the benefits of connecting with the outdoors and to learn how the NatureRocksAustin.org website can help facilitate regular and frequent access to nature so that all kids can be healthier, happier and smarter!
For more information see naturerocksaustin.org and/or RSVP on the Facebook Fan Page: http://www.facebook.com/home.php?#!/pages/Nature-Rocks-Austin/168675383313
###