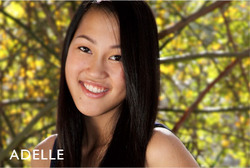 "The idea was born out of a need for people to accept me and love me for who I am, and for us to celebrate our differences." says Higley.
Hollywood, CA (PRWEB) May 7, 2010
The teen music video, "Love Me For Who I Am", featuring Adelle Higley, was officially selected for exhibition in the New York International Independent Film & Video Festival. The festival event will be featuring films and videos from around the world, including Canada, Australia, France, China, India, Brazil, Ireland, England and of course, all over the U.S. The festival will take place in July in New York City and in the Fall in Los Angeles.
Adelle Higley is featured in the music video Love Me For Who I Am. Adelle has taken on the role of advocate for those who endure handicaps. The motivational song of acceptance and love is a five-star YouTube hit and has captured the hearts of those who have seen it. "The idea was born out of a need for people to accept me and love me for who I am, and for us to celebrate our differences." says Higley. "Stay different!" Adelle encourages. "Our differences are what can make this world a better place."
The music video was a family project as the Higleys long-time friends, Jim and Karen Covell, pulled together their professional resources and made this vision of Adelle's come to fruition. Jim wrote the song, his wife Karen produced it and it was directed by the Covell's own teenage son, Christopher.
Adelle was adopted into a family of love with talented parents, who had strong work ethics and success stories of their own, her mother, Emmy Award winning writer Dena Higley, is currently the head writer of the NBC hit daytime drama, "Days of our Lives". Her father Mark is also an Emmy Award winning writer of several television shows and films, and has found time to teach English and writing.
"It (the music video) made me cry," says one reviewer. "It's a message everyone needs to hear."
Adelle was born in Vietnam missing her right leg and fingers. The first 18 months of her life were spent in an orphanage battling a number of life threatening diseases. She was malnourished and weighed only 17 lbs when she was brought home to the U.S., where she officially became a "Higley". Now, after enduring numerous surgeries on her leg and fingers, the 13-year-old has proven that she is up to any challenge the world has to offer.
Adelle's song, Love Me For Who I Am, was spawned by the inspirational words she posted on her Facebook page. "I want to help people stay strong," she says. "I thought a song might be a good way to reach out." She stresses there is a place in this world for everyone, regardless of their limitations.
The video has sparked a number of requests for Adelle to speak to groups about tolerance and acceptance. There is hardly a dry eye in the house when she talks about the emotional story of her past and confronting the odds set against her. Regarding her physical appearance she sings, "We're not the same, and that's cool. But God doesn't make mistakes!"
In addition to singing and speaking, Adelle is also hurdling just about every other obstacle that she encounters. Now blessed with four fingers on each hand, and fitted with a prosthetic leg, she is cheerleading, playing volleyball, riding horses, learning Taekwondo, and is looking forward to running track next year as a high school freshman. Aside from her athletic achievements, the teenager is able to find time to sing and act in her school's musical and theatrical productions. She thrives onstage and her energy is contagious.
Her dream, she says, is to become a veterinarian. "I love school," she says. With her eye on the horizon, Adelle Higley is ready to conquer any barrier that comes before her. She views the future with a true sense of confidence and excitement. "I'm ready for anything!"
Besides her parents Mark and Dena, Adelle has a sister Jensen, a brother Connor and the newest addition to the family is her brother Helio from Ethiopia.
"Love Me For Who I Am" Video Link
http://www.youtube.com/watch?v=2G_z0WCg1Ws
# # #