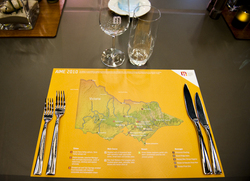 Whether it's veal from Warragul; Yarra Valley Salmon roe; Daylesford's Tuki Springs smoked trout or Gippsland lamb, our philosophy is to develop inspiring, seasonally-driven menus
(PRWEB) May 9, 2010
In a clear demonstration of its commitment to Victorian producers and growers, Australia's premier venue, the Melbourne Convention and Exhibition Centre (MCEC), has created a unique menu concept that visually takes diners on a gastronomic tour of Victoria.
The MCEC sources produce and wines from every major region of Victoria, priding itself on using environmentally responsible producers and growers.
In a move unprecedented for a venue of its size, the MCEC refuses to use a set menu and instead tailor-makes each and every menu based on the best seasonal produce before preparing everything on site - including curing its own fish and making its own soups, sauces, pastries and bread.
The MCEC's food and beverage team are now offering clients a sustainable menu which is illustrated by individual placemats in the form of a map of Victoria indicating for diners the exact region and producer or vineyard where the food or wine they are enjoying has come from.
Food and beverage manager Frank Burger says with consumers increasingly wanting to know the source of the food they are eating, the 'Taste of Victoria' placemat concept means they can simply move their plate aside and see exactly where the strawberries they are about to eat are grown, or where the fish in their main dish is reared.
The wine list is also sourced from diverse growing regions across the state which Burger personally sources himself, while beer comes from west Gippsland producer Grand Ridge Beer.
"Whether it's veal from Warragul; Yarra Valley Salmon roe; Daylesford's Tuki Springs smoked trout or Gippsland lamb, our philosophy is to develop inspiring, seasonally-driven menus where diners can be reassured with the knowledge that what they're eating is the freshest and highest quality local produce available."
For further information please contact:
Suzi O'Dell, Marketing and Communications Manager
Melbourne Convention and Exhibition Centre
Tel: +61 3 9235 8216 Mobile: +61 410 220 578
Email: sodell(at)mcec(dot)com(dot)au
Kirstie Bedford, Director
KDJM Communications
Mobile: +61 437 455 001
Email: kdjmcommunications(at)bigpond(dot)com
# # #