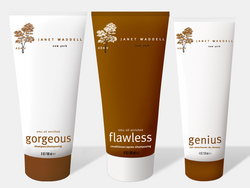 New York, NY (PRWEB) May 8, 2010
Janna World Productions, LLC has just announced the launch of their newly formulated product line Gorgeous, Flawless, Genius in KITSON stores across Los Angeles. The Janet Waddell branded hair care series will be available at the KITSON Malibu and KITSON Melrose locations starting May 8th.
"Gorgeous shampoo, Flawless conditioner and Genius hair balm are formulated with Emu oil, a powerful ingredient used by indigenous Australians for over 2,000 yrs" said Anna Herceg, co-founder of Janna World Productions and native Australian.
With less than 10% water, the 3-piece hare care series is truly a uniquely ingredient-laden product. "The difference between our product line and all others is the composition," says Janet Waddell, co-founder and celebrity stylist. "We use only the most natural ingredients, like finely ground de-oiled grape-seed husks for exfoliation and Emu oil to thicken and maximize growth potential."
All Janna World products are 100% PARABEN-FREE. For more information, go to http://www.jannaworld.com
ABOUT THE FOUNDERS
Janet Waddell is recognized as one of the top celebrity hairstylists in the United States (http://www.janetwaddell.com) and Anna Herceg is an entrepreneur with an extensive background in world beauty products.
Janna World Productions, LLC is a privately held company in New York City.
If you'd like more information about Janna World, or to schedule an interview with Janet Waddell or Anna Herceg please call Sarah Kim @ (212) 388-0878 or e-mail Sarah at sarah(at)jannaworld(dot)com
###