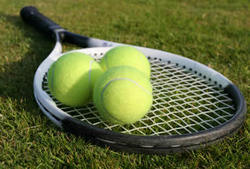 no reasonable offer will be refused
Beaconsfield Victoria, Australia (Vocus) May 8, 2010
Providing top name brand tennis equipment, racquets, shoes and clothing, The tennisshop.com.au offers a full range of products that any avid tennis player could desire.
This is a complete tennis site and The Tennis Shop is an Authorized Dealer of top of the line name brand items that have been generously reduced from the recommended retail price. It's not only tennis lovers that will appreciate this site, but squash and racquetball enthusiasts will find excellent deals here as well, all at unbeatable prices.
Everything imaginable is available for racquet sport lovers. Not only are standard items offered, but also such product as racquet string, stringing machines and tools, balls and ball launching machines, handle grips, tennis raquets bag, and even tennis court nets, and training gear. Nice starter tennis package deals are also available for children, teens, women and men that get things up and running for a fraction of individual price.
Anyone having questions is invited to call, email or utilize the live online assistance option. The Tennis Shop has an expert staff with in-depth experience in the playing, coaching and retail end of tennis and tennis related products.
A unique feature of the site is something called "Haggling", where the visitor is invited to make a lower offer on the already reduced price of items in which they are interested. It is advertised that "no reasonable offer will be refused" and, with some items cut by 30% or more from the MSRP, a haggler can get additional savings on brand new, high quality items.
Regardless of a player's skill level, the site offers great deals on quality tennis clothing and equipment for racquet sports. Then, once items are selected, the customer can get even better deals through the haggling option, making this site a treasure trove of real values.
About thetennisshop.com.au
The tennisshop.com.au is launched from the main headquarters located in Beaconsfield Victoria, Australia containing a staff that has over 10 years experience in the tennis industry. They are a specialized Authorized Dealer, so it can be trusted that all products are original and from the advertised manufacturer and not cheap knockoffs. They also provide manufacturer warranties and guarantees on all their products.
Contact Details:
The Tennis Shop
6/4 Princes Hwy,
Beaconsfield Victoria, 3807
ph: 1300 664 039
Email: press(at)thetennisshop.com(dot)au
Website: http://www.thetennisshop.com.au/
# # #