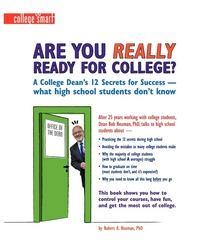 Even the best high school students often struggle in college because they don't have the necessary management and life skills needed to succeed.
Milwaukee, Wis. (PRWEB) May 11, 2010
As high school students across America prepare to graduate and head off to college, are they really ready to face the academic challenges that await them? Many are not, according to Are You Really Ready for College? http://www.areyoureallyreadyforcollege.com a new book which provides high school students with an eye-opening guide to the personal management skills needed to succeed in college and graduate on time.
Why is it important that students learn these skills while they are still in high school? Twenty-five percent of college freshman at 4-year colleges drop out after the first year. According to A Matter of Degrees, a report by the Education Trust, the four-year graduation rate is only 35%; the graduation rate at six years rises to only 55%. More years in school means added financial stress for parents and students in an already tough economy.
During his 25 years of advising thousands of students through the college academic process, author Bob Neuman PhD and former Associate Dean for Student Academic Development at Marquette University in Milwaukee, Wisconsin, gradually discovered that many young people were unprepared to manage the independence and academic workload of college due to a common set of shortcomings. In the book, he examines these issues including the dangerous myth that a strong high school GPA means smooth sailing ahead.
"My experience demonstrated that even those students with the best grades in high school often struggle in college because they aren't prepared with the management and life skills necessary to juggle the greater demands of higher education," says Neuman. Those high school students who say "my grades are good so I'll make it," quickly learn that college isn't just about GPAs and ACT/SAT scores.
In the book, Neuman shares with high school students 12 key strategies that will help them become better organized and avoid common 'college student' mistakes. It's a systematic approach that goes beyond micro skills like outlining and memorization tricks to help students learn how to be productive, take initiative, use resources, manage themselves and their time, realistically assess progress, read warning signs, adjust to change, set and reach goals, and mark off academic milestones. Filled with compelling facts about the realities of college and personal anecdotes, this is a personal workbook that students can carry with them and regularly review throughout their high school years.
Are You Really Ready for College? retails for $21.99 and is now available at http://www.areyoureallyreadyforcollege.com. It is a useful resource not just for students but for their support system including parents, high school counselors, teachers and other education advisers. The book can be used in various ways including:
§ An at-home handbook showing parents how to guide and support the school's efforts.
§A book that teachers could recommend to families at parent-teacher conferences to improve student performance.
§A book that forms a valuable curriculum for high school orientation or study skills courses.
§A resource for guidance counselors in working with individuals or groups.
§Required reading for students working with guidance counselors.
About the Author
Robert Neuman or "Dr. Bob" has spent the last 25 years advising students as the Associate Dean of the College of Arts and Sciences at Marquette University which has 7,000 undergraduates. He's also the father of a son who has successfully completed college in four years, graduating summa cum laude and Phi Beta Kappa and who is currently working on his MBA as a preparation for law school.
###