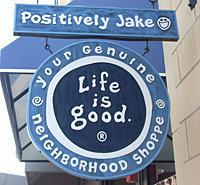 We focus on supporting the simple messages of the Life is good brand, such as looking at life 'Half Full' and 'Doing what you like…Liking what you do.'
Denver, CO (PRWEB) May 9, 2010
Positively Jake will be celebrating their triumph through economic turbulence with local friends, customers and family at their Life is good retail store in Lakewood, Colorado. The celebration includes fun activities for all, including colorful balloons, face painting, fresh popcorn, refreshments and fun Life is good door prizes all day long. There will also be great in-store specials on popular Life is good merchandise carried by Positively Jake. The event will take place on Saturday, May 15, 2010, from 10:00 am to 6:00 pm at 420 S. Teller St., Lakewood, Colorado, in the Belmar Shopping District.
"We have remained optimistic and persevered despite watching businesses and restaurants around us close their doors. We focus on supporting the simple messages of the Life is good brand, such as looking at life 'Half Full' and 'Doing what you like…Liking what you do.' We are traveling through these tough economic times by continuing to spread "Good Vibes®" with the help of our loyal Life is good fans and Positively Jake friends," said owner Kara Bohannon when asked what lent to the success of their business.
Positively Jake is proud to offer the Life is good products in their local Life is good Genuine Neighborhood Shoppe, as well as online at http://www.store.positivelyjake.com. The staff takes great pleasure in greeting both new and long-time customers who come into the store. "It's also been wonderful getting to know people across the country since we launched our online store," said Bohannon. Positively Jake also meets new friends through the online communities they have established with their Blog, Facebook, and Twitter.
"It's so rewarding to get to know Life is good enthusiasts in person as well as online," said Bohannon, "We get to learn about and share positive and inspirational stories, photos, words of wisdom and smiles with our friends each day."
About Positively Jake
Positively Jake is a locally owned Life is good Genuine Neighborhood Shoppe located in Lakewood, Colo. It is solely dedicated to the Life is good® brand. Positively Jake opened in May 2007 and has been spreading Good Vibes® ever since by building a community of optimism through its retail store, website, online store, blog and social media.
Much more than a retail or online business, they are thrilled to help spread the message of optimism and hope in their own community and across the country by helping raise awareness and funds for children in need through the Life is good Kids Foundation. For more information, go to http://www.positivelyjake.com
# # #