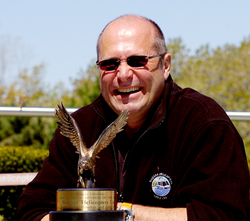 Niagara Falls, NY (PRWEB) May 10, 2010
Niagara Helicopters Limited, an aerial tour company offering Niagara Falls tours based in Niagara Falls, Ontario, was presented with Canadian Business-of-the-Year Award. Niagara University's College of Business Administration was pleased to recognize a company that flies above its competition and believes its employees are the most critical component to its success.
"I spend a good part of my day in the air and looking down on the ground where people look like ants. Not mine. At Niagara Helicopters, my employees are GIANTS. They walk tall, they carry more than their share of the load and they are only too anxious to speak their minds. That's the only way we improve our Niagara sightseeing business, as I see it", says Ruedi Hafen, President and Chief Pilot of Niagara Helicopters. "To me, they're not badge numbers or identified by their positions. To me, they've become friends who happen to work with me every day".
"For its commitment to fostering good business relationships and its support of community organizations and activities, Niagara University's College of Business Administration is proud to honour Niagara helicopters Limited, by presenting it with the Canadian Business of-the-year Award for 2010" -said Joseph L. Levesque, C.M., the President of Niagara University, NY at the award ceremony.
Through the years, Ruedi Hafen and Niagara Helicopters offering visitors to Niagara Falls unique Niagara helicopter rides have been recognized for their success and community involvement, such as reporting fires, chasing criminals, rescued people trapped in the Niagara Gorge or Niagara River. Included in the award tributes to Niagara Helicopters are Major Attraction of the Year and Outstanding Business Achievement. Ruedi Hafen has been honoured as Niagara Entrepreneur of the Year, as recipient of the Grand Misty Award and the Ontario Volunteer Service Award and he was awarded the Bronze Medal for Bravery for saving humans life.
Hafen was thrilled by receiving this award. He said "I would like to congratulate all of the Award Recipients and especially tonight's winning students Keith Seitz and Rochelle Greek, because I believe the future lies in our young people. It is an honor for me to be included in the company of such a distinguished group of people." Hafen compared his business strategies with the famous song by Irvin Berlin and shared some with the audience: "First: You have to showcase your business to create awareness and make it attractive and exciting. Second: Your business has to go on stage no matter what, even if you are sometimes the only performer. Third: The number and quality of performances will make the success of your business."
The 2010 Canadian Business-of-the-Year Award was accepted by President and Chief Pilot of Niagara Helicopters Limited, Ruedi Hafen.
A Niagara charter can include the traditional view of Niagara Falls to hosting your helicopter wedding above the Falls or taking advantage of one of the aerial wine tours Niagara Falls style.
Learn more about Niagara Helicopters at http://www.niagarahelicopters.com.
About Niagara Helicopters
For 48 years, Niagara Helicopters Limited has been thrilling passengers of all ages with spectacular Niagara Falls tours, offering birds-eye views of the Falls and other notable Niagara Falls attractions – all from one of five meticulously maintained Bell 407 helicopters. The heliport is located along the Niagara Parkway, just minutes from the Horseshoe Falls in Niagara Falls, CANADA. Flights are available from 9am until sunset, daily, weather permitting, year-round.
For those looking for an unique experience, Niagara Helicopters also
offers a variety of VIP Charters including visiting local wineries or getting married over Niagara Falls.
###