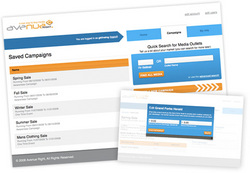 "The media landscape is fragmented and more targeted. Avenue Right's platform increases efficiencies by leveraging automation technology, and empowers decision-making by integrating data directly into the buying process." - Brian Gramer, Founder & CEO
Fargo, ND (PRWEB) May 10, 2010
Marketing technology company Avenue Right announces the release of version 3.0 of its web-based media buying software, the first on-demand platform that allows small to mid-size advertising agencies to plan, buy, analyze, and report on local advertising across media channels.
Challenging the complex legacy processes of planning and buying media, the platform delivers not only real-time information about a local advertising marketplace, but also the tools media buyers need to make that information actionable and manageable.
Instead of spending hours searching the internet or on the phone, media buyers can login to Avenue Right and quickly identify online and offline media outlets that reach their local target audience, get contact information and rates, finalize schedules, generate reports and calendars, and communicate with media outlets.
Avenue Right's technology increases efficiency in the media buying process by automating manual, administrative processes and providing a central location to manage and report on all the information related to their media buys.
The platform streamlines the media buying process through access to a real-time database of local advertising opportunities, electronic RFP and media scheduling tools, contact management, dashboards, and reporting. This recent feature release brings even greater flexibility for cross-channel media buying with customization.
Avenue Right's database consists of over 50,000local media outlets—radio, broadcast & cable TV, newspaper and magazine, and online display advertising.
The release of Avenue Right 3.0 introduces customization features that allow users to add, interact with, and report on any advertising medium that's included in their overall media schedule.
For example, alongside the local traditional and online display advertising opportunities found in Avenue Right's database, media buyers can include OOH and search advertising in their planning, budgeting, and reporting for a campaign.
This integrated approach lets media buyers can see where they are getting the most value based on audience delivery and budget, optimize the media mix accordingly, and communicate that value to their clients or business stakeholders.
"The media landscape is fragmented and more targeted," says Brian Gramer, Avenue Right founder & CEO. "The platform increases efficiencies in the buying process by leveraging automation technology, and empowers decision-making by integrating data directly into the media buying process."
In addition to custom media, the release of Avenue Right version 3.0 lets users request more detailed information from media outlets in the RFP process, such as custom data fields and questions. A new calculator lets users create and save media formulas to capture and measure information such as CPP or Reach and Frequency.
Ad agency users can also organize information on their clients and services with custom fields for the client environment.
Customization has been on the product roadmap for some time. Feedback from agency users helped the company make these features a development priority this year.
Avenue Right offers an affordable and pragmatic solution that serves small to mid-size ad agencies that buy online and offline media for local and regional advertising campaigns.
The platform connects media buyers and sellers in real-time, saving time through automation and providing the tools needed to gather, analyze, and act on information about an advertising opportunity or marketplace.
"Avenue Right lets media buyers focus their time on what they do really well and what provides the most value for their clients," Gramer says, "like strategy and planning and placement."
About Avenue Right
Marketing technology company Avenue Right offers a modern, affordable solution to an old problem in the advertising industry - how to plan and buy media more efficiently and effectively, across media channels.
The leader in media buying automation, Avenue Right's web-based software streamlines the media buying process for small to mid-size advertising agencies looking to do away with manual processes, provide better visibility for clients, and increase efficiencies in their day-today jobs.
###