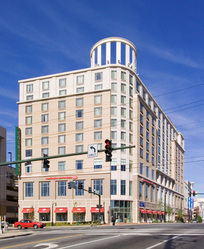 Silver Spring, MD (PRWEB) May 9, 2010
Eight days of celebrating the expressions of the film making industry will be a June highlight for the Courtyard Silver Spring Downtown hotel, which has again stepped forward as a sponsoring hotel for the AFI-Discovery Channel Silverdocs Film Festival, a prestigious film industry event set for June 21-27 in Silver Spring, MD.
"Many of the hotel staff are big fans of the festival, so for us, this sponsorship represents a chance to get involved and throw our weight behind a wonderful event," said David Shoshan, general manager at the Courtyard Silver Spring Dowtown. "For our hotel, it's an opportunity to support the community and bring new visitors to downtown Silver Spring and to show those visitors all the unique and exciting things that our community has to offer."
Located in the heart of the new downtown redevelopment, the Courtyard provides first-class accommodations in Silver Spring with easy access to the exciting American Film Institute's Silver Theatre and Cultural Center as well as many other film festival event locations. With a full slate of film presentations, more than 25,000 festival attendees from across the globe will be on hand in support of the festival which takes place at the AFI Silver Theatre and Cultural Center, one of the premier film exhibition theaters in the country; the Discovery Communications World Headquarters, which is located across the street from this fine hotel in Silver Spring, Maryland, and at other locations in and around downtown Silver Spring.
An abundance of retail shops and Silver Spring restaurants - including quaint sidewalk cafes, are within easy walking distance of the Courtyard Silver Spring, making it a great location for taking in all the sights and sounds the Eighth Annual Silverdocs has to offer. This unique event fosters the free expression of independent storytellers and the power of documentary to enhance understanding. The event features 14 Academy Award nominated films and over 100 films from more than 60 countries, and was created through the joint efforts of the American Film Institute and the Discovery Channel, the festival's founding sponsor.
Courtyard Silver Spring Downtown hotel accommodations are among the finest of Silver Spring hotels near Silverdocs Film Festival, offering a variety of spacious guest rooms and suites, all featuring luxury bedding ensembles of cotton-rich linens and soft pillows. Wireless Internet access is available in all guest rooms along with 32-inch LCD televisions and premium movie channels.
About the Courtyard Silver Spring Downtown Hotel
In addition to an offering impeccably detailed hotel suites, the Courtyard Silver Spring Downtown hotel has 1,400 square feet of meeting space to accommodate business or social events and each guest room is equipped with spacious desks, an iPod docking station, mini-refrigerator and coffee maker for the convenience of hotel visitors. Guests also have complimentary use of the hotel's 28,000 square foot fitness center with Olympic lap pool.
###