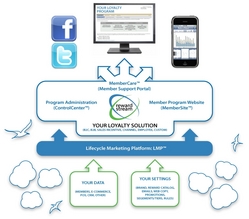 RewardStream's Lifecycle Marketing Platform™ (LMP) was shown to be superior in respect of bonussing and event management and scored very highly in security, program management tools, scalability and, in particular, ongoing platform enhancements.
(PRWEB) May 11, 2010
RewardStream, a leading loyalty software company, is pleased to announce that it has been rated the top Software-as-a-Service (SaaS) based loyalty software platform by global loyalty consultancy Customer Strategy Network (CSN).
Mike Atkin, a Customer Strategy Network founding member, maintains the most comprehensive loyalty software evaluation database in the industry, and recently completed a rigorous loyalty benchmarking initiative, assessing over 40 single-brand, multi-partner and B2B global solution providers to date. The Loyalty Benchmarking Initiative evaluated solutions across a broad range of capabilities, including software functionality, remote administration tools, the company's business model, global suitability, support and maintenance, and client delivery options.
After a rigorous evaluation process, RewardStream was ranked the top remotely hosted (or, Software-as-a-Service) solution among all providers participating in the loyalty benchmarking initiative. As a result, RewardStream will be CSN's preferred supplier of remotely hosted loyalty solutions. CSN recently joined the newly formed RewardStream Leader™ Program, a network of accredited loyalty and incentive experts who extend the company's fast and flexible software with the consulting services required for program success.
Commented Mike Atkin, "RewardStream's Lifecycle Marketing Platform™ (LMP) was shown to be superior to many platforms in respect of bonussing and event management and scored very highly in all other areas including security, program management tools, scalability and, in particular, the ongoing enhancement program for the platform."
Mike concluded his benchmarking report by saying "RewardStream LMP offers an exceptional range of functionality and tools to any loyalty program operator seeking to create or enhance a business-to-business (B2B), Staff Incentive, business-to-consumer (B2C) or multi-partner scheme. The configuration tools offer a fast, easy and cost effective solution to meet just about any program requirements."
Said Peter Oxley, president and CEO of RewardStream, "We are pleased to see what our clients have known for ten years proven out and recognized in the wider marketplace. The benchmarking initiative was rigorous and highly competitive. We are confident that the Lifecycle Marketing Platform (LMP) – the foundation of all our consumer, channel and employee software solutions – provides a fast, flexible and measurable solution for a broad range of program types across industries, reward types, languages, and currencies. Our top ranking in this Loyalty Benchmarking Initiative is a further stamp of confidence for loyalty program sponsors in the marketplace."
###