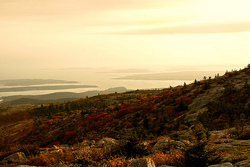 RV travel is one of the best ways to see this beautiful country we live in
Portland, OR (PRWEB) May 11, 2010
Most people have a bucket list, a list of goals to achieve, sites to see, and things to do in a lifetime. But for those who are dedicated to life on the road, creating such a list can be daunting; there are so many sites to see in the United States, an RVer's bucket list has the potential of becoming endless. To help those suffering from bucket list block, Excel Distributors, the online purveyor of luxury RV bedding, published Adventure Calls: 117 Things to Add to Your Bucket List, a checklist of the United States' must-see locales from Maine to New Mexico, Alabama to Alaska.
Adventure Calls lists the 117 top scenic destinations and pit-stop-worthy landmarks in the United States, along with stunning images and helpful tips on nearby RV-friendly campgrounds and resorts. "RV travel is one of the best ways to see this beautiful country we live in," says Scott Oster, General Manager of Excel Distributors. "Each of the 117 items on the bucket list is either one of our favorite places to travel which we wanted to share, or something that lingers on our bucket lists."
Covering every region in America, there are a multitude of locations for RV "road warriors" to check off. Some, such as watching a sunset over the Grand Canyon, seem like obvious destinations, even for people who do not travel by RV. Others, though, focus on the attractions of smaller, road-side stops that are only available by car. "Our favorite RV-only destination is number 60: 'hang your shoes on the shoe tree off US 50 in Nevada.' It's a bucket list item completely unique to road trips, and provides a little mystery. Where is this shoe tree? Who started it? Why is it popular?" explains Oster.
Excel's bucket list is by no means comprehensive. "We didn't want this to be the ultimate, end-all bucket list for RVers," says Oster. "This is just something to inspire travelers, or places they can add to their own bucket lists." Adventure Calls concludes by imploring RVers to continue traveling even after all 117 items have been crossed off – and to start a new bucket list."
About Excel Distributors:
Excel Distributors is the online purveyor of quality RV mattresses, RV mattress protection pads and RV pillows. Dedicated to customers wishing to improve the overall quality of the RV they currently own, Excel specializes in the RV Aftermarket. Excel is located in Portland, Oregon, and is proud to be the exclusive online distributor for the Quest RV Mattress series. The goal: to provide a seamless purchasing experience for all their customers.
# # #