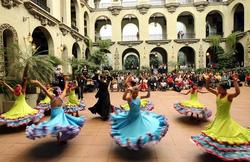 The EFA Flagship on the Right to Education for Persons with Disabilities: Towards Inclusion.
Washington, D.C. (Vocus) May 11, 2010
Those who assume a photographer has to be able to see, a dancer has to be able to walk, or a percussionist has to be able to hear are about to have their preconceptions challenged. VSA, the international organization on arts and disability, is hosting an unprecedented event featuring more than 600 artists, performers, and educators from all over the world: The 2010 International VSA Festival, which will take over Washington, D.C., from June 6–12.
From music to theater, literary readings to film screenings, and sculptures to paintings, the International VSA Festival will feature works by eminent and emerging artists with disabilities, as well as renowned educational experts who will share innovative and inclusive instruction strategies.
"The International VSA Festival will highlight excellence and ability," said VSA President Soula Antoniou. "The international range of talent and expertise that will be presented is phenomenal. Our festival will be a celebration that ensures that all people participate in the arts."
"The International VSA Festival -- the Kennedy Center's international festival for 2010 -- celebrates the diversity and vibrancy of arts around the world," commented Kennedy Center President Michael M. Kaiser.
Highlights of the festival include: installations by world-renowned artists Dale Chihuly, Mark di Suvero, Judith Scott, and Yinka Shonibare, MBE; performances by Dame Evelyn Glennie, the Scottish virtuosic percussionist, with the National Symphony Orchestra; R&B legend Patti LaBelle; the jazz stylings of Diane Schuur; Diagnosis of a Faun, an original dance piece that VSA commissioned from Tamar Rogoff Performance Projects; Last Comic Standing season four winner Josh Blue; the eclectic blues of New Orleans' Henry Butler; events hosted by famed actors Claire Danes (Romeo + Juliet) and Marlee Matlin (Children of a Lesser God, The L Word); and Revealing Culture, a groundbreaking exhibition of more than 130 works of art by 54 artists with disabilities. The visual art exhibitions for the 2010 International VSA festival are designed by Michael Graves & Associates/Michael Graves Design Group.
International artistic highlights include: Mali's renowned singer-songwriter Salif Keita; Australia's indie rock band Rudely Interrupted; the U.K.'s Blue Eyed Soul Dance Company; Brazil's Forró No Escuro; Japan's virtuoso violinist Narimichi Kawabata; Ireland's Fishamble: The New Play Company; and the Thousand Hand Dance from the China Disabled People's Performing Art Troupe.
As part of the festival, the International VSA Education Conference will feature nearly 70 workshops, panels, and lectures with education professionals from around the world. Participants will learn about inclusive education programs and strategies, share expertise, and network with colleagues. Sessions are geared toward three main themes: Advancing Inclusive Education, 21st-Century Learning Skills, and Pathways to Employment. Keynote speakers include: Sir Ken Robinson, expert in the field of creativity and innovation in education; Dame Evelyn Glennie, world-renowned solo percussionist; and Kenneth Eklindh, head of the UNESCO program "The EFA Flagship on the Right to Education for Persons with Disabilities: Towards Inclusion."
Performances and exhibitions will take place at venues throughout Washington, D.C., including multiple stages at the John F. Kennedy Center for the Performing Arts; AFI Silver Theatre and Cultural Center; Atlas Performing Arts Center; DC Improv; The George Washington University Lisner Auditorium; H Street Playhouse; Shakespeare Theatre Company's Harman Hall and Lansburgh Theatre; the Smithsonian Institution's Discovery Theater and International Gallery; the Smithsonian American Art Museum; Union Station; and the U.S. Department of Education. Since VSA advocates that everyone has a right to learn through, participate in, and enjoy the arts, all events and performances in all venues will reflect the highest standard of accessibility.
The 2010 International VSA Festival is presented with the support of the U.S. Department of Education; Alice and David Rubenstein; Amway Corporation; Volkswagen Group of America, Inc.; CVS Caremark; A. Huda and Samia Farouki; Ambassador Jean Kennedy Smith; Stavros Niarchos Foundation; Ambassador Elizabeth Frawley Bagley and Mr. Smith Bagley?; Centene Charitable Foundation; Dr. and Mrs. Ronald I. Dozoretz; JoAnn McGrath; Ms. Maha Al Juffali-Ghandour; League of Arab States; DC Commission on the Arts and Humanities, an agency supported in part by the National Endowment for the Arts; Christopher and Dana Reeve Foundation; and the Kennedy Center International Committee on the Arts.
About VSA
VSA, the international organization on arts and disability, was founded more than 35 years ago by Ambassador Jean Kennedy Smith to provide arts and education opportunities for people with disabilities and increase access to the arts for all. With 52 international affiliates and a network of nationwide affiliates, VSA is changing perceptions about people with disabilities around the world. Each year, 7 million people of all ages and abilities participate in VSA programs, which cover all artistic genres. VSA is an affiliate of the John F. Kennedy Center for the Performing Arts. For more information, visit http://www.vsarts.org.
###