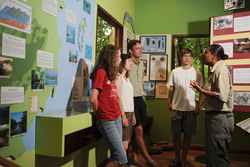 San Francisco, CA (Vocus) May 9, 2010
Chaa Creek Summer Camp
July 18 -24, 2010
Looking for a special event for you and your 7-15 year old this summer?
Cayo District, Belize May 8th 2010 -Chaa Creek is offering a week long summer camp program to educate children about biodiversity, natural resource conservation, the ancient Maya, traditional healing, and the three "R's" Reduce, Reuse, and Recycle.
The program aims to instill memorable values that will have an impact on the way children conduct their lives, their relationship with our fragile Earth, and the sustainable development of our future.
Some of the guided educational activities include:
Hiking to ancient Maya sites where they will perform archaeological excavations, Horseback Riding through Jungle Trails while studying the medicinal flora within the 365-acre private reserve, Song writing and talent show sessions, Hands-on sustainable organic farming techniques, and Supervised water activities at Chaa Creek's new swimming pool.
6 Nights/7 Days all inclusive
Chaa Creek Nature Reserve
US$815 per child at the Macal River Camp
US$1206 per parent at The Lodge at Chaa Creek
Children's Summer Camp includes lodging at the Macal River Camp, all meals plus snacks three times a day, daily scheduling of educational events, arts & craft materials and t-shirt, Camp Counselors 24/7, and guided tours with licensed naturalist guides.
Parents' rate includes airport transfers, lodge accommodation (next door to camp), all meals, and onsite activities.
For further information, please call USA - 877-709-8708, UK - 0-207 096-0329 email us at reservations(at)chaacreek(dot)com or visit our website http://www.chaacreek.com
###