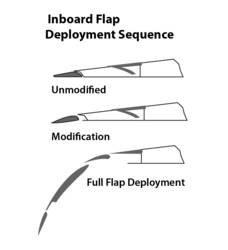 It appears that this operator's return on investment, at today's fuel prices, will be less than 12 months
Reno, NV (PRWEB) May 11, 2010
AeroTech Services, Inc., announced today that substantial fuel savings in commercial service have been proven on Brussels Airline's B737-400 using AeroTech Services' Wing Modification System. Brussels Airlines will now be outfitting the remainder of their B737-400 fleet with the AeroTech wing modification. The uncomplicated modification reduces fuel consumption and emissions by up to 4% on all Boeing 737 Classics (-200, -300, -400, and -500 models).
"A cooperative effort between Brussels Airlines and AeroTech determined that their aircraft reduced fuel burn by an average of 2.7% during cruise. Fuel consumption data is typically not available from the on-board data acquisition system during aircraft climb. As such, the additional fuel reduction in climb, which has been previously proven, was not calculated in the overall savings", states James Nettle, Director, AeroTech Services. Mr. Nettle continued by stating, "It appears that this operator's return on investment, at today's fuel prices, will be less than 12 months".
Currently, the list of companies using the AeroTech modification includes Brussels Airlines, GECAS, Swiftair, MNG Airlines, Shenzhen Donghai Airlines, and Ukraine International Airlines.
The AeroTech B737 modification replicates a NASA designed airfoil by increasing the aircraft's wing area and camber, and lengthening the wing chord; all of which increases the lift-to-drag ratio. The modification has been certified by the U.S. FAA and EASA, and verified to reduce fuel burn during climb and cruise.
Brussels Airlines is a flag carrier airline headquartered at the Brussels International Airport in Zaventem, Belgium and is the largest airline based in Belgium, operating to over 60 destinations in 20 European countries, as well as long-haul flights to East, Central, and West Africa. Lufthansa is a major stock holder of Brussels Airlines. The airline is a member of IATA and the Association of European Airlines (AEA).
AeroTech Services Inc. holds US Patent No. 6,598,834 on the wing modification for all aircraft, and Supplemental Type Certificates from several major civil aviation authorities for the B737 classic models. The company markets and sells this modification worldwide to commercial airline operators. For more information call (702) 405-0325 or, visit the website at http://www.aerotechservices737.com.
###