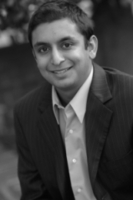 This week we're giving all wedding vendors the opportunity to directly ask marketing questions of Sonny Ganguly - the CMO of WeddingWIre.com.
Atlanta, GA (PRWEB) May 10, 2010
Last week, WedLock Magazine took the wedding industry by storm. With support and encouragement from industry leaders like the AFWPI.com, Perfect Wedding Guide, Mobile Beat and many more - WedLock magazine unveiled its monthly marketing program. One that caters just to wedding professionals.
WedLock is intent on giving wedding vendors what they want. And what vendors want is help with their marketing. They want honest, accessible, effective advice. They need new wedding marketing ideas. They want their burning questions, answered! So in addition to a monthly marketing print magazine (complete with the "monthly marketing plan" included in each and every issue) WedLock also wanted to offer vendors a more interactive venue. One where they can ask live questions about their businesses - to the marketing experts who can help them.
Jayne Hallock, Editor In Chief of WedLock Magazine, says "This week we're giving all wedding vendors the opportunity to directly ask marketing questions of Sonny Ganguly - the CMO of WeddingWIre.com." This free webinar is entitled "The Important Marketing Resolutions all Wedding Vendors should make." At the end of his presentation, the WedLock hosts and Sonny will answer take live questions and answer them 'on air'. Sign up now to hear from Sonny and ask your own questions this Tuesday night!
WedLock Magazine's monthly system includes:
1. Glossy 40 page journal: Issue One features writers from big wedding industry names like WeddingWire.com and WeddingSolutions.com & teaches wedding vendors a host of useful wedding marketing ideas like how to write copy that brides love, how to rank for wedding-related terms and how to leverage YouTube and more.
2. Monthly Marketing Plan: Also included in every single issue is something of a "monthly marketing plan." This is an invaluable tool for the busy professional who just wants to know what to do and how to do it. This way, readers don't just learn theory about marketing - they are handed a clearly spelled out "To Do" list.
(It's kind of like a personal trainer for your business!)
3. Two monthly live, interactive webinars. WedLock readers are sent a private login code to two evening webinars, each lasting around two hours. These webinars featured top wedding marketing experts teaching cutting edge tips and taking live questions! Recordings of these webinars are available to WedLock readers, so they don't miss a moment of top-notch instruction.
4. Fantastic 5-hour bonus DVD course: And finally, for the first 30 days of WedLock's debut, every subscriber to WedLock Magazine also receives a DVD course entitled "Bridal Traffic". This is five hours of visual, step by step, easily understandable instruction on how to make a wedding professional's website rank well on the search engines. (This is called "Search Engine Optimization" or "SEO") Wedding pros who have watched this series - taught by Jason Hennessey and Chris Watson - marvel at how fun and understandable WedLock has made the normally intimidating subject of SEO.
For more information about WedLock call 800-318-5059 and ask for Jayne Hallock. Or you can email her directly at jayne(at)wedlockmag(dot)com
# # #