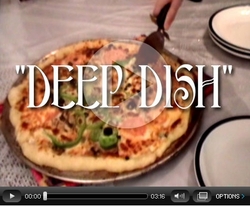 I want to produce more good quality movies for every one of all ages to enjoy.
(PRWEB) May 9, 2010
"Deep Dish" is a film about the different races, cultures, and opinions in Chicago. A Chicago favorite is used as a metaphor that unites humanity. Each ingredient on a pizza celebrates Chicago's diversity. Jay Abedelal created Deep Dish: The Movie in support of the One Chicago, One Nation initiative.
One Chicago, One Nation is a philanthropic collaborative, that has partnered with the Chicago Community Trust, Link TV, Interfaith Youth Core (IFYC) and Inner-City Muslim Action Network (IMAN) to develop in Chicago a nationally replicable civic engagement initiative that brings together diverse local communities to work with common purpose for the common good to uphold America's promise of liberty and justice for all. For more information visit onechicago-onenation.org.
In Jay's Abedelal's own words, "I want to produce more good quality movies for every one of all ages to enjoy."
Please encourage your friends and supporters across social media platform to check out and vote for DEEP DISH: THE MOVIE, vote, and share via Facebook, YouTube, Twitter, Yelp and LinkedIn because the contest ends at midnight (end of contest is May 9, 2010 at 12:00PST).
Please vote 5 stars for "Deep Dish" until midnight and encourage others to do the same by posting the following link into your status along with your own reason why you voted for the film: tinyurl.com/deepdishmovie.
In addition, we encourage you to support us across social media platform:
http://www.facebook.com/group.php?gid=121293821216074
http://www.youtube.com/deepdishmovie
http://twitter.com/deepdishfilm
Reminder: Please vote ASAP and copy and paste the message below into your status:
Support Jay Abedelal's "Deep Dish" in an online film contest by voting 5 stars until midnight at tinyurl.com/deepdishmovie.
If you would like more information, or to schedule an interview with Jay Abedelal please call Sanjay Gupta at 773-426-5028 or email Sanjay Gupta at deepdishmovie(at)gmail(dot)com.
# # #