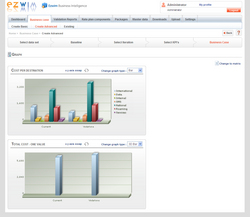 What has traditionally been a very complex, manual process for enterprise clients can now be done on a regular scheduled basis allowing for maximised savings year over year
(PRWEB) May 12, 2010
Ezwim, a leading vendor of telecom management cloud services, today announced the availability of Ezwim Business Intelligence. The first service that will give companies of all sizes, cost effective and timely access to automated operator invoice validation, price plan optimisation, price plan analysis and "what-if" analysis; typically only available to large corporations willing to invest thousands of Euros and months into the analysis and optimisation of their telecom costs.
Ezwim Business Intelligence is a powerful billing engine that contains up-to-date price plans of multiple operators and supports automated uploads of historical billing data direct from the operator's website. Product features include validating an operator invoice on a call detail record level; this helps companies to make better-informed decisions by demonstrating the financial impact of different scenarios, for example: switching to different operator price plans, supplying local SIM cards to frequent travelers etc. Ezwim Business Intelligence offers companies an in-depth understanding as to whether they are on the best operator price plans and ensures they are not overpaying on their telecom services.
Key characteristics and benefits of Ezwim Business Intelligence include:
Advanced and In-depth Analysis - The product provides the ability to audit telecom activity against the operator's price plan, through invoice validation, price plan optimisation and what-if scenarios. The analysis offers insight into all associated telecom costs, and levels ranging from an aggregation level, CLI/user level, to the detail of every call record.
Price Plan Handling and Invoice Upload - Ezwim Business Intelligence has the capacity to handle complex billing types, such as; bundles, subscriptions, start-tariffs, flat fee, adjustments and credits etc. The electronic operator invoice can be uploaded manually or automatically.
All Telecom Services - The rerating feature supports all types of telecom services, including wireless, fixed voice, wholesale.
Global Capability - The product is proficient in handling electronic invoices from all major operators globally.
Integrated Platform - Ezwim Business Intelligence uses the same application platform and databases available to other Ezwim products allowing for a seamless and integrated service.
Cloud Service and On-demand Delivery - Ezwim Business Intelligence is securely available through the Internet and can be operational in 2 weeks.
Powerful Sales Tool for Operators, Telecom Consultants, MVNO's and Resellers - The automated creation of business cases, which is a comparison based on actual usage and up-to-date price plans, will identify and affirm the financial benefit of one operator vs. another.
"Ezwim has built into their platform a robust tool giving their clients the results and details needed to optimise their price plans globally," said Terry Suttles, Senior Partner of Value Sourcing Group and former Group Consulting Vice President of META Group Consulting. "This is paramount to any deep analysis and achieving overall savings. What has traditionally been a very complex, manual process for enterprise clients can now be done on a regular scheduled basis allowing for maximised savings year over year."
"With Ezwim Business Intelligence, Ezwim fills a gap in the telecom management market," said Hein Remmen, Product Manager of Ezwim. "Traditional tools do not offer the depth of analysis that Ezwim does. The product does not only check if the operator invoice is correct it is also capable of calculating the impact of changing rate plans, switching to an alternative carrier etc. This allows enterprises to optimise telecom and save money, I believe Ezwim Business Intelligence will fundamentally change the way companies manage their telecommunications."
"Properly managing telecom costs has become a top priority for an increasing number of organisations," said Ron van Valkengoed, Managing Director of Ezwim. "With Ezwim Business Intelligence, companies gain access to the most advanced telecom Business Intelligence tooling available in the market today enabling companies to take control over their relationship with operators."
Availability
Ezwim Business Intelligence will be available for both current and new customers of Ezwim on May 15 2010.
About Ezwim
Ezwim is a global leader in telecom management cloud services for enterprises and operators. Ezwim's Telecom Management Suite, available at http://www.ezwim.com, offers a complete portfolio of telecom management applications that enable global organisations to gain visibility into, and control over, the mobile and fixed communications assets and costs. Ezwim helps companies to realise telecom cost reductions and process efficiencies and run every part of their enterprise telecommunications in the cloud.
###