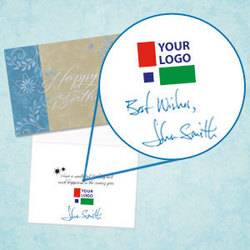 Our customers often order cards with a full color logo printed inside. It's a great way to promote their brand.
Kansas City, MO (PRWEB) May 11, 2010
Posty Cards, a family owned and operated manufacturer of personalized business greeting cards, is pleased to announce a special discount offer. For the month of May, logo and signature artwork setup is free with any order – a $25 value.
Greeting cards are one of the most effective methods of client communication. Using business birthday cards, business Christmas cards, corporate thank you cards, anniversary cards, and other business greeting cards, sales professionals can stay in touch with clients all year long. Because of the personal nature of a greeting card, it is more likely to be read and remembered than a brochure or postcard. For a professional look, cards are personalized with a company logo, a photograph or any other image. To save time, the signature of the person sending the card can be uploaded and printed under the verse. Card personalization can be printed in full color for maximum impact inside cards.
Once a logo or signature is uploaded to the Posty Cards website, it is available for that customer to use and preview on future orders with no additional set up charges. "Our customers often order cards with a full color logo printed inside. It's a great way to promote their brand." said Janet Coats, Director of Marketing.
About Posty Cards:
Posty Cards has been helping companies nationwide build and maintain relationships with their clients since 1948. The company designs, manufactures and sells beautiful personalized business birthday cards, business thank you cards, corporate holiday cards, business Christmas greeting cards, business calendars and more at the lowest prices available. Posty Cards is committed to sustainability: all electricity is 100% offset by renewable wind power, catalogs are printed on FSC certified paper and they maintain an extensive recycling program. Posty Cards is currently undergoing an expansion/renovation project that aims to be LEED Platinum certified. All cards are printed with soy ink and many are printed on recycled or FSC certified paper. Posty Cards also manufactures the Sustainable Sentiments line of cards featuring environmentally inspired, "green" designs. For more information, visit http://www.postycards.com.
###