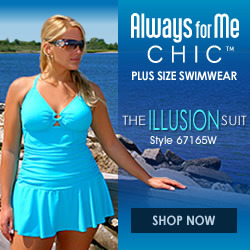 "At Always For Me we are committed to showcasing all of our plus size fashions including bathing suits and lingerie on beautiful woman with "real" curves." says Barone.
Hauppauge, NY (PRWEB) May 12, 2010
Leading online retailer of plus size swimwear, swimsuit cover-ups, sexy lingerie and active wear, AlwaysForMe.com has announced the debut of its new website. AlwaysForMe.com is celebrating its' 10 year anniversary as a premier etailer of plus size fashions. In honor of their 10 year anniversary Always For Me has created a fresh new look for their website. AlwaysForMe 's founder, Susan K Barone, reports that "The new website provides a fun and convenient shopping experience. Women around the globe know they can count on Always For Me for trendy figure flattering plus size clothing at affordable prices." Always For Me is a great place to find the newest trends in plus size swimsuits, resort wear, sexy lingerie and activewear - year round. Here are some of the great new features you will find at AlwaysForMe.com.
Bold new magazine like photography and graphics highlight this season's latest trends in plus size swimwear and swimsuit cover ups. "At Always For Me we are committed to showcasing all of our plus size fashions including bathing suits and lingerie on beautiful woman with "real" curves." says Barone.
Shopping at Always For Me is easy with navigate links at the top of each page that take you directly to the styles and products you are looking for. You can shop for beautiful designer plus size swimwear from renowned manufacturers like Always For Me, Carol Wior, Christina, Delta Burke, Fantasize, Miraclesuit or Speedo. Or you can browse all of the plus size apparel that Always For Me offers sorted by body type or style.
Always For Me has expanded its product descriptions and added multiple product views, so you can be confident your purchase will be exactly what you are looking for.
The new product zoom feature to gives you an up-close look at all the flattering style details that Always For Me plus size swimwear and cover ups have to offer.
Finding your best fit is easier than ever with a clickable size chart on every product page.
In a hurry – use Always For Me 's Quick view shopping for your favorite plus size fashions
"Based on valuable customer feedback , AlwaysForMe designs its own collections of plus swim wear and cover ups that translate the latest trends for the curvy woman with special attention to comfort and control. " says founder and president, Susan Barone. "We love to hear from our customers and have them to take part in defining the direction of our plus size clothing lines. To expand that dialog Always For Me now has a presence on Facebook and Twitter." Be the first to hear about new arrivals and trends by following AlwaysForMe on Facebook and Twitter
Want to see Always For Me's designer favorites – check out the Featured items.
Always For Me knows that shopping is more fun with friends so they have made it easier. Find a great style you like – share it with a friend via email, or your Facebook or Twitter page
Always For Me has also added videos of their best selling swimsuits and cover ups highlighting the fit and features of each product.
Always For Me has long been known for offering plus size women the latest trends in swim wear styles. The ability to translate the features of the 2010 season is showcased in their new website design, as well. "What makes our website different is we specialize in fashion forward plus size clothing. You don't have to settle for the limited selection department stores offer. At AlwaysForMe.com you get the trendy styling of today's fashions and the Always For Me quality and fit we are known for," says Barone. Summer is almost here and now is a great time to shop for the best of the season's plus size swimsuit and cover up fashions from AlwaysForMe.com
AlwaysForMe.com is a leading online retailer of plus size swimwear, plus size bathing suit cover-ups, active wear and lingerie. Founded in 2000 by Susan Barone, a successful apparel industry executive, AlwaysForMe.com serves the needs of an estimated 65 million women who wear a size 14 and larger. For more information on Always For Me, Inc. please visit our website at AlwaysForMe.com, or call toll-free, 1-888-287-8941.
###