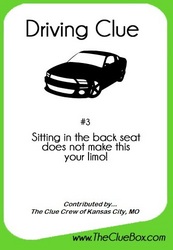 "The Clue Box started out as a social experiment," said Nancy Walker, co-founder and executive officer of The Clue Box. "It is a growing movement aimed at improving human behavior one 'clue' at a time."
Kansas City, MO (PRWEB) May 11, 2010
Ever want to tell someone to "get a clue" without offending them or causing a confrontation? Now there's a solution – The Clue Box. The Clue Box offers a fun, innovative way to make an opinion or feelings known in a non-threatening approach through the use of anonymous clues that can be distributed in a variety of ways.
Clue Cards, which are the size of business cards, contain helpful tips and are perfect to leave in a public restroom, under a windshield wiper or on a co-worker's desk. You can also visit http://www.TheClueBox.com to set-up a free account and send clues secretly via e-mail. Online users receive the first five clues for free.
"The Clue Box started out as a social experiment," said Nancy Walker, co-founder and executive officer of The Clue Box. "It is a growing movement aimed at improving human behavior one 'clue' at a time."
The helpful hints come in dozens of categories including: Shopping, Social & Workplace Etiquette, Relationship Tips, Personal Hygiene and Attire. Know a co-worker who talks so loudly about personal matters that one can't help but overhearing, why not drop a Clue Card on their desk the next time they're away? Let them know that, "Yes, we can all hear your personal conversations, whether we want to or not." There are more than 600 clues to choose from, and if none of the standard clues seem to apply, The Clue Box offers the opportunity to submit new and original clues.
According to Ms. Walker, "Everyone is invited to contribute new and original clues and get paid if we use them. We are setting aside a percentage of our net profits to pay to those whose clues we choose to use."
A Clue Box containing 400 categorized Clue Cards is available for purchase at http://www.TheClueBox.com for $24.95. Booster packs of the top 55 clues from several categories can be purchased for $7.95. Shipping is free. Clues sent online are available in quantities of 10, 25, or 50 for a nominal fee. The first five clues are free for each new online account.
For more information about The Clue Box and how to purchase and submit original clues, please visit: http://www.TheClueBox.com.
About The Clue Box
The Clue Box, established in 2010, offers users common-sense clues, hints and suggestions that can be distributed via printed cards or in digital form. Its mission is to provide the public with helpful hints aimed at improving human behavior, one clue at a time. More than 600 clues are available in dozens of categories. For more information, visit: http://www.TheClueBox.com.
# # #