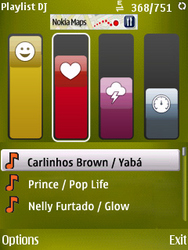 "Playlist DJ has been extremely successful in the Ovi Store ... We're expecting this launch to put us well past the one million downloads mark – in very short order," said Richard French, chief executive officer, Syntonetic
San Francisco, CA (PRWEB) May 11, 2010
Syntonetic Inc., creator of music profiling and recommendation technologies, today announced that its Playlist DJ mobile application is now available on non-touch Nokia devices running Symbian 60 3.2. Playlist DJ was originally developed for Nokia devices with touchscreens, but today the company is adding a number of non-touch devices to that list, including the Nokia N96, bringing the total to 20. The app is quickly approaching the one million downloads mark in Nokia's Ovi Store.
On touch devices, Playlist DJ creates instant playlists using songs from one's own personal music library. The listener tells the app what kind of music he or she wants by adjusting touchscreen sliders labeled joy, passion, anger and tempo, and the app composes a playlist instantly. On non-touch devices, various buttons are used to navigate the app and to adjust these same sliders for playlist creation.
With this announcement, Syntonetic is also introducing a message channel to alert both touch and non-touch Nokia devices to new version availability, and to deliver other important notifications. Additionally, Playlist DJ for non-touch devices will be advertising-supported.
"Playlist DJ has been an excellent addition to Ovi Store's growing music app category for Nokia devices," said Marco Argenti, vice president and global head of media, Nokia. "Nokia is happy to expand its relationship with Syntonetic by making this app available to more Nokia device owners with this new offering, and we're eager for Syntonetic to add new features and grow its listener base."
Designed for music enthusiasts, Playlist DJ is the ideal solution for people who feel their music libraries have become unmanageable. This app gives users a unique tool to create playlists in less than 5 seconds. Playlist DJ finds the best tracks to cater to an unexpected mood, to change a mood or to find music that works well together. Listeners can also 'seed' a song to create an entire playlist based on one tune, remove songs from playlists and save and name favorite playlists. Playlist DJ is free on the Ovi Store.
A full list of Nokia devices now enabled to run Playlist DJ follows:
Nokia 5320 XpressMusic
Nokia 5630 Xpress Music
Nokia 5730 XpressMusic
Nokia 6210 Navigator
Nokia 6220 Classic
Nokia 6700 Slide
Nokia 6710 Navigator
Nokia 6720 classic
Nokia 6730 classic
Nokia N78
Nokia N79
Nokia N85
Nokia N86 8MP
Nokia N96
Nokia 5230
Nokia 5233
Nokia 5530
Nokia 5800
Nokia N97
Nokia X6
"Playlist DJ has been extremely successful in the Ovi Store on Nokia touchscreen devices, and we know that many people want the app for their non-touch devices. We're expecting this launch to put us well past the one million downloads mark – in very short order," said Richard French, chief executive officer, Syntonetic. "This is just the beginning for Syntonetic and for Playlist DJ. We have many enhancements planned for the near future, and we're looking forward to working with Nokia to make them a reality."
About Syntonetic
Syntonetic delivers powerful solutions for leading mobile device manufacturers, mobile operators, online music businesses and streaming music services, and provides applications direct to consumers. The company's intelligent applications automatically decode unique properties within songs, including moods and emotions, to create new music services that attract and retain users, and applications that change the way people listen to music. More than 1,000,000 customers from 187 different countries have synced over 25 million songs to create instant playlists based on moods and emotions. Syntonetic offices are located in Frederiksberg, Denmark, and San Francisco, Calif., and can be found online at http://www.syntonetic.com.
###