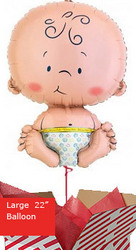 While all gifts are very welcome, some are more useful than others. Also, if you don't have children of your own, it can be difficult to know which gifts parents will find most useful
(PRWeb UK) May 12, 2010
Big Fat Balloons has put together a convenient and practical guide for buying gifts for parents of new born babies. While flowers are a traditional option, Big Fat Balloons has a host of gift ideas that will delight new parents.
"While all gifts are very welcome, some are more useful than others. Also, if you don't have children of your own, it can be difficult to know which gifts parents will find most useful," said Sophie Baxter, managing director, Big Fat Balloons.
"Even gifts like flowers require a little bit of thought. Hospitals only have a limited supply of vases, so ordering arrangements in a basket or with their own water reservoir makes it much more convenient for the new mum. Equally, such arrangements are easier to transport when the new parents leave hospital."
Baby clothes are another popular choice. But again, Big Fat Balloons offers a word of caution.
"If you're planning to buy clothes for when the baby is older, then don't forget to consider the season. A pretty summer dress may look gorgeous now, but if it's the middle of winter before the baby will be big enough to wear it, chances are it will go to waste," said Sophie.
Other ideas from Big Fat Balloons include clubbing together with colleagues or friends to buy more expensive items like sterilisers or baby monitors.
Teddy bears and toys that will stimulate the baby are always welcome gifts for newborn babies. However, Big Fat Balloons advises to purchase specific baby teddy bears for newborns to check that they are suitable from birth.
If budgets are an issue, then Big Fat Balloons suggests a keepsake gift. These can vary from a few pounds for a baby development book or keepsake box to a few hundred pounds for a family portrait session with a local photographer.
Although it's doubtful that new parents will have spare time for reading, parenting guide books can come in useful for some new parents. After all, babies don't come with instruction manuals.
"One of the most useful gifts I received as a new parent was a baby goody hamper. This home-made gift had been put together by a friend of mine, who had collected all the essentials you need for a new born baby – shampoo, cotton buds, nail clippers, baby lotion, nappy rash cream, nappies, in fact everything I needed to pamper my new baby. It was practical and incredibly useful," said Sophie.
Big Fat Balloons' final gift idea for newborns is a balloon in a box. After all, it was when Sophie received a helium gift balloon in a box to celebrate the birth of her first son, that she had the inspiration for Big Fat Balloons.
###