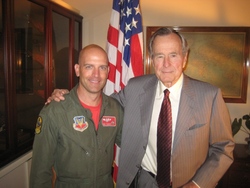 President Bush is a great Patriot, having served our country as its Commander In Chief, in Congress and at the UN, and as Director of the CIA, and a WWII Navy fighter pilot, an occupation close to my own heart. Our nation owes him a great debt.
Tulsa, OK (PRWEB) May 12, 2010
The Folds of Honor Foundation today announced it will present the 2010 Inaugural Patriot Award to George H. W. Bush, 41st President of the United States of America, in recognition of his service in the Navy and ongoing support of the U.S. military as president and beyond. The award will be given before a black-tie crowd at an invitation-only gala on Memorial Day, Monday, May 31, 2010 at the Hard Rock Hotel and Casino in Tulsa, OK.
"President Bush is a great Patriot, having served our country as its Commander In Chief, head of the CIA, and a WWII Navy fighter pilot, an occupation close to my own heart," said Major Dan Rooney, F-16 Fighter Pilot and Founder of the Folds of Honor Foundation. "From the success of the first Gulf War to the close of the Cold War, we owe President Bush a great debt. We honor his unflinching service to and love of his county and its people with this award."
Rooney also added that President Bush has been a lifelong supporter of the USGA and has had a lifelong passion for the game of golf.
Country music star Vince Gill and his band are donating their time to provide entertainment for the evening in honor of our great military service men and women. The event is part of a Memorial Day Weekend celebration that will also include a Pro-Am golf tournament featuring PGA and LPGA Tour stars. The tournament will be held on the just-opened Patriot Golf Course, designed by the renowned Robert Trent Jones, Jr. The course carries a patriotic theme and benefits the Tulsa-based Folds of Honor Foundation.
During the weekend, Folds of Honor will officially open its new headquarters adjacent to the Patriot Golf Course. The Associated Builders and Contractors of Oklahoma donated labor and materials to build the headquarters, the Oxley Foundation donated the property, and contributions from the Tulsa community completed the needed funding to construct the building, which is valued at a total of $1.2 million.
About the Folds of Honor Foundation:
Folds of Honor Foundation was founded in May 2007 by Major Dan Rooney, an F-16 Fighter Pilot, PGA Professional, and USGA member. A decorated military pilot in the Oklahoma Air National Guard, Major Rooney has served three combat tours in Iraq. It was after his second tour, while a passenger on a commercial flight, that Major Rooney witnessed an event that would profoundly change his life. As the plane landed, the pilot announced, "Ladies and gentlemen, we have an American hero on board – Corporal Brock Bucklin. And his twin brother, Corporal Brad Bucklin, is accompanying him home from Iraq. As a sign of respect, please remain seated while Corporal Bucklin's family receives him in his final homecoming." Major Rooney watched through the window of the plane as the flag-draped casket was lowered. He saw a family waiting for Brock, and a little four-year old boy waiting for his father. This tragic homecoming inspired Major Rooney to create the Folds of Honor Foundation.
The Foundation's signature fundraiser is the annual Patriot Golf Day, held at thousands of participating golf courses over Labor Day Weekend, which raises money for scholarships for the families of military members killed or disabled in service to their country. Over the past three years, Patriot Golf Day events have raised more than $5.4 million and Folds of Honor has awarded more than 1,100 scholarships.
###