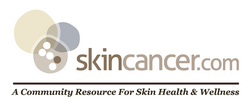 …the increase in skin cancer in younger people is largely tied to the increase in indoor tanning…
Dallas, TX (PRWEB) May 11, 2010
With skin cancer on the rise for Americans under 30 and indoor tanning contributing to this latest health crisis, Skincancer.com has developed expert health information and answers questions about how to avoid the disease. Created by leading dermatologists, the site is an independent resource for skin health that is useful to both consumers/patients and physicians.
The new study of U.S. college students by researchers at Memorial Sloan-Kettering Cancer Center shows that tanning—indoors or outdoors—can be as addictive as drinking. This news, combined with recent findings that those who start tanning regularly before age 30 have a 75 percent higher risk of skin cancer, shows the need for Americans to be more aware of the health risks of tanning and ways to change their habits.
Skincancer.com was founded by Clay J. Cockerell, M.D., Director of the Division of Dermatopathology at the University of Texas Southwestern Medical Center and Director of Cockerell and Associates Dermpath Diagnostics. "After getting many questions from patients and other physicians over the years about skin cancer, melanoma and other skin conditions, I saw a need for a website that provided both clinical and practical information about skin health that is accurate and easy to understand."
In his daily dermatopathology practice, Dr. Cockerell sees skin cancer trends in the U.S. as they are unfolding. "We evaluate numerous skin biopsies a day and have noticed an increase in the number of younger people getting dangerous skin cancers over the past several years. In one instance we found three melanomas in a 19-year-old who tanned indoors on a regular basis," said Cockerell who is also a Past President of the American Academy of Dermatology.
"We believe that the increase in skin cancer in younger people is largely tied to the increase in indoor tanning. Although people in their 50s and older still are the ones who get most of the skin cancers, we are now seeing it in much younger people—those in their late teens, 20s and 30s," Cockerell said.
The new site has an "Ask the Doc" page where consumers can interact with Dr. Cockerell and other dermatologists to get answers to their individual situations. A consumer/patient network is available for users to get the latest information about skin cancer, melanoma and other skin conditions. Dermatologists and other health care providers can join the Skincancer.com community to share in clinical information and best practices. Sign up to become a member for additional information, updates and services.
###