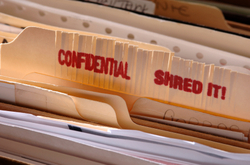 Denver, CO (PRWEB) May 12, 2010
Ship 'n' Shred – a service dedicated to making it easy for homeowners and small businesses to shred sensitive documents – celebrates its seventh year in business today. The service is a convenient, inexpensive way to fight identity theft.
"We fill the need between the couple of sheets you can handle with a personal shredder and dozens of boxes you need a shredding service to handle," says Steven Hastert, President of DataGuard USA.
Ship 'n' Shred service is available nationwide but is most popular in locations that are expensive to reach with a shredding truck. The Outer Banks in North Carolina and Manhattan are two such places. By using the efficiencies of FedEx and regional shredding centers, the shredding can be done at a lower cost.
Ship 'n' Shred has shredded over 20,000 boxes in its seven years. That equates to over 300 tons of paper destroyed. All shredded paper and the boxes they come in are recycled into new paper.
"Our job is to help protect private information," Says Hastert. "It is great to know we have helped protect so many people's identities. The bonus is all that paper was recycled."
Ship 'n' Shred is a service of DataGuard USA. Based in Lakewood, Colorado; the company focuses on shredding and recycling. Started in 1984 and offering services nationwide.
###