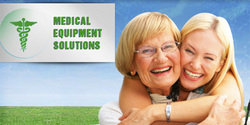 Miami, FL (Vocus) May 11, 2010
Life is too short for loved ones to live in pain or isolation, and no one understands this principle more than Medical Equipment Solutions.
Located in the heart of downtown Coral Gables (Miami) Florida, Medical Equipment Solutions has been providing services for disabled, elderly, and recovery patients for over a decade. Their experts have a passion for helping customers improve their quality of life. From electric wheelchairs to hospital beds and oxygen concentrators, the specialists at MES have the experience to help individuals and families find the perfect products for leading better lives.
Since 1999, Medical Equipment Solutions has specialized in providing rental and lease-to-own programs for their medical products. Their experts help individuals assess their current lifestyle, highlight areas in which need augmented with equipment, and recommend the appropriate solutions. The company is well-known in Miami Florida for their unparalleled customer service, committed to delivering power wheelchairs directly to the customer's home, fully assembled and functional. This full-service model puts the customer first, adding an unmatched level of value to their business model.
Medical Equipment Solutions proudly offers their featured power wheelchair: the MP1I by Meritus Health. This top of the line power wheelchair is constructed of a foldable frame and features padded height adjustable arms, flip-back desk arms, elevating leg rests, and a height adjustable backrest. The controller is fully programmable as well, offering patients an entirely customizable mobility solution. This featured chair is topped off with Flat Free tires, a carryall bag, and a seven amp Schauer charger. Medical Equipment Solutions also offers expert wheelchair repair.
In addition to power wheelchairs, the company offers an array of durable, high quality products to help improve the quality of life for their customers. Manual wheelchairs, manual and electric hospital beds, diabetic supplies, and oxygen concentrators round out the company's product offerings, providing customers with products to help alleviate many different ailments and make recovery periods more comfortable.
Manual wheelchairs represent a superb option for those who are rehabilitating from an injury, surgery, or are otherwise in good enough physical condition to propel themselves. MES offers fine quality folding and collapsible manual wheelchairs from a variety of top-notch brands. Featured models include the M4V and the M12-Rover by Meritus.
The M4V manual wheelchair provides functionality at a modest price. The wheelchair is composed of padded nylon, ensuring a comfortable feel for hours at a time. The desk arms are likewise padded, and removable, offering added comfort and flexible configuration options. The swing away footrests are made of strong alloy, and the chair also features optional padded, elevated calf rests. The chair sits atop a pair of Mag wheels, able to accommodate up to 250 pounds. Priced at only $179.00, the chair is a perfect example of the beautiful combination of functionality and value.
The M12-Rover is the finest in lightweight manual wheelchairs. Though light, the frame is strong and comes with a limited lifetime guarantee. The chair is composed of padded, flame-retardant nylon upholstery and comes in both narrow and standard widths. Priced at $199.00, the M12 offers substantial upgrades at a very reasonable price point.
While Medical Equipment Solutions offers both power and manual wheelchairs as mobility solutions, the company also offers exceptional deals on hospital bed rentals. Unbeknownst to many, hospital beds greatly affect the healing process. The pressure imposed on the human body during recovery affects many internal bodily processes vital to healing, including but not limited to blood flow and oxygen delivery. It is of extreme importance to select a bed that both facilitates the healing process and offers adequate comfort. MES understands the vital role hospital beds play in the lives of their customers, and they work hard to make a variety of options available at reasonable prices. The company provides both new and used beds for rental, and customers can use the beds both at home or at clinics and hospital facilities.
Miami and Broward County residents can have a bed delivered to their home for as little as $150.00, with an $80.00 setup fee and a two month minimum rental agreement. The caring staff at MES will deliver and assemble the beds upon request, exemplifying their tireless commitment to exceptional customer service.
Medical Equipment Solutions additionally offers oxygen concentrators oxygen concentrators. The company is licensed by the state of Florida to service oxygen to both Medicare and Medicaid patients. For customers without insurance, Medical Equipment Solutions will do what they can to help export oxygen products. Popular brands carried include RESMED, INVACARE, REPIRONICS, AIRSEP AND PURITAN BENNETT. MES excitedly offers the new compact, portable oxygen concentrator for their customers. Freedom of travel and mobility are the two hallmark benefits of the products. Recently, the Federal Aviation Administration has amended its regulations to allow for onboard, in-flight use of these concentrators.
Finally, MES offers a diverse selection of diabetic supplies. As a Medicare provider, the company provides diabetic meters, testing strips, lancets, and lancing devices to Medicare patients. Currently, MES is offering all Medicare patients the opportunity to try the new True Read by Invacare for free, even if they have been provided a meter by Medicare in the past five years.
When it comes to customer service, Medical Equipment Solutions stands above the rest. The company is composed of compassionate individuals who strive to serve customers, working tirelessly to improve their quality of life. MES offers many products to accomplish this goal, including power and manual wheelchairs, hospital beds, oxygen concentrators, and diabetic supplies. Located in Coral Gables, Florida, the company passionately serves its clients, making home deliveries for Florida residents. MES is currently working to expand their delivery systems, hoping to offer delivery services nationwide in the coming year.
Loved ones need not live nor recover in pain. Visit the MES website which supplies medical equipment in Miami at http://www.medicalequipmentsolutions.com today to request additional information on wheelchairs, hospital beds, oxygen concentrators, and diabetic supplies.
###